Science
Expedition 26: Space Station Trio Returns To Earth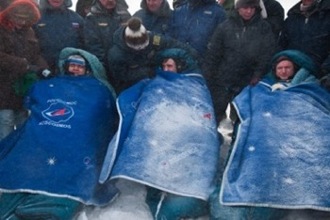 A U.S.-Russian crew returned to Earth in a Soyuz capsule on Wednesday after living and conducting research for five months on the International Space Station.
NASA astronaut Scott Kelly with Russian cosmonauts Alexander Kaleri and Oleg Skripochka safely landed on the Kazakhstan steppe at 12:54 a.m. PDT (1:54 p.m. local time). Russian recovery teams were on hand at the snowy site to assist the trio out of the Soyuz TMA-01M and adjust to gravity.
As part of Expedition 25 and 26, Kelly and his crewmates spent 159 days in space and worked on more than 150 microgravity experiments aboard the orbiting complex, NASA said.
Left behind on the station are Russia's Dmitry Kondratyev, NASA's Catherine Coleman, and the European Space Agency's Paolo Nespoli, who arrived in December as the second half of Expedition 26 and now comprise Expedition 27. They will be joined by NASA's Ron Garan and Russia's Andrey Borisenko and Alexander Samokutyaev to complete the Expedition 27 crew; however, the launch has been postponed due to electrical issues in the Soyuz TMA-21.
The station, roughly the size of a U.S. football field, accommodates six residents at a time. It received the first crew in November 2000. Since then, more than 200 explorers have visited, 15 nations contributed and more than 600 experiments conducted.
The latest additions to the station include Robonaut 2 (R2), the first human-like robot in space that was delivered by shuttle Discovery's STS-133 crew in February. On Tuesday, Nespoli and Coleman unpacked R2, which through advancements, may one day help crews perform work on the station.