California
In California, A Renewed Call For Seismic Retrofits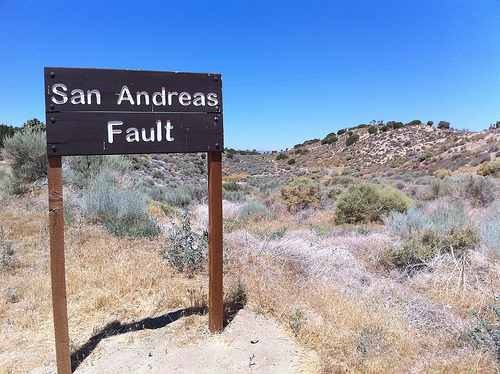 Come Jan. 1, 2015, at least 28 hospitals could still be sites of catastrophic damage should a large earthquake rip through the state of California.
Following the Northridge earthquake in 1994, the state Legislature imposed several unfunded mandates to make schools and hospitals able to withstand most earthquakes, but hundreds of facilities have received extension after extension because of the incredibly high cost of upgrades.
Then-San Francisco Mayor Gavin Newsom, now the state's lieutenant governor, proposed incentivizing seismic upgrades for buildings throughout San Francisco. The City Council rejected the idea of taxpayers subsidizing the upgrades. He then led a ballot measure campaign to issue bonds to loan money for upgrades. The voters struck down the idea, failing to amass the needed two-thirds threshold for passage.
"We are not willing to spend the money needed to ensure public safety," said Dana Buntrock, an associate professor of architecture at the University of California, Berkeley.
Several experts noted that Japan and California have imposed the strictest building codes they can at this point, but the failure to have every building up to code creates the problem. There's also tremendous information about what those building codes do exactly, one expert said.
"If you follow the code, you would have a building with a lot of damage that you couldn't get back into because it's on the verge of collapse," said Stephen Mahin, director of the Pacific Earthquake Engineering Research Center. "You just wouldn't have a collapsed building."
In California, a Legislature confronted with $27 billion deficit is unexpected to quickly address the 94 percent probability that sometime in the next three decades the state will face a 7.0-magnitude earthquake.
Mahin said the state needs to figure how an economically viable means to speed up upgrades. Former Gov. Arnold Schwarzenegger repeatedly pushed for billion dollar investments to upgrade the state's water infrastructure. Could Gov. Jerry Brown's calling be an infrastructure financing bond for seismic upgrades?
"At some point, you want to be able to say something like every one dollar spent on mitigation will save you ten dollars in damage when devastation strikes," said Mahin, who experienced a foreshock of the 8.9-magnitude earthquake in Japan on Wednesday while in the country for a conference about earthquakes. He said he was sad that he flew back before the big one it. He and his fellow researchers thought the foreshock was actually the main event.
In January, Japan's Ministry of Land called for a resurveying of 2,500 buildings to see if they were in tune with the latest seismic codes. The latest temblor could expedite that survey. And old buildings aren't the only problem.
Buntrock said every school, hospital and building where more than 500 people regularly gather should be upgraded to withstand collapse, preventing the crushing of thousands of people and giving them enough to evacuate to safer areas. A study issued by the state in 2002 found more than half of California schools needed further seismic evaluation, and in some cases, billions of dollars in upgrades to help them brace an earthquake.
Mahin said in the coming months he'll studying closely why electricity and phone lines went offline across so much of Japan in the aftermath of the earthquake. The goal would be to propose upgrades to California's public utilities systems to prevent a similar unexpected result.
Technology has advanced to show that huge buildings in the future could not only withstand collapse, but also suffer no damage at all. For building codes to reach that point will take many more years of rigorous testing to repeatedly prove that's the case.
In the meantime, Mahin said a series of earthquakes, including ones in Haiti, Chile, New Zealand and now Japan, have added up in the public's minds.
"In my experience, the government spends in proportion to how many times something appears in the headline," he said. "A moderate investment to get a fair amount of resiliency in a disaster seems like a good plan."
To reach reporter Paresh Dave, click here.
Find him on Twitter: @peard33.