Music
Heidi Spencer & The Rare Birds Drop Third Album "Under Streetlight Glow"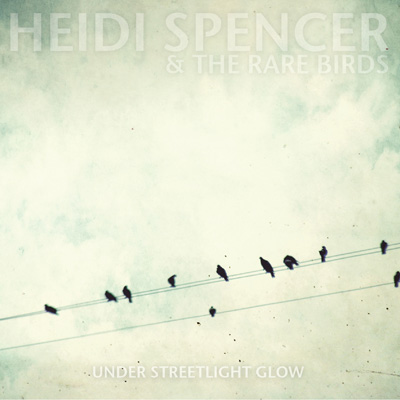 Country-pop group
Heidi Spencer and the Rare Birds
released their third album titled "Under Streetlight Glow" this week.
The work is a collection of soothing songs with rich lyrics that draws from the folk, country and blues genres. Spencer's voice is jazzy with slight inflections of soul throughout.
Her singing, combined with the acoustic sounds of the guitar, makes the album enjoyable and melodic.
The first song "Alibi" is accompanied by instrumental breaks, which are effectively weaved in between the vocals. The combination of acoustic guitar, piano and drums complement Spencer's voice as she sings a story about spending the day inside with a lover.
"Alibi" leads to the title track, "Under Streetlight Glow". It has a slightly different sound than the uplifting and brighter preceding song. It includes whistles and accents of the electric guitar off in the distance, which gives a more country feel with darker vocals. Spencer sings "meet me at the edge of the park, two hours after dark" while her voice descends — appropriately fitting to the lyrics.
The balance between Spencer's voice and the prominent acoustic guitar complement the lyrical imagery throughout the album. Most of lyrics are themed toward relationships and love.
The lyrics, "Cities closing in on me. I have nowhere to be, can I come to you please?" express heartache and yearning in the album's final song called "Whiskey".
The 40-minute long album is consistent and not repetitive when it comes to tempo, rhythm and pitch. Spencer doesn't throw any unexpected curve balls at you. Expect to hear similar harmonies and vocal pitch throughout the album.
The entire work is peaceful, relaxing and powerful. It makes the listener drift off into another place: a pleasant one.
What really sets this album apart is its ability to move the listener. When tuning in, it's almost as if Spencer is singing live, directly at you because you may find yourself having this single, harmonious connection with the emotions in each track.
This album is perfect for a stormy day. You might decide to sit by a fire, cuddle up in a blanket and grab a good book, which make it a truly quintessential album for that perfect day off.
To download a free new track from Heidi Spencer and the Rare Birds, check out their myspace page here.
To rech GinaLisa click here.