Food
Three Delicious Ways To Enjoy Greek Yogurt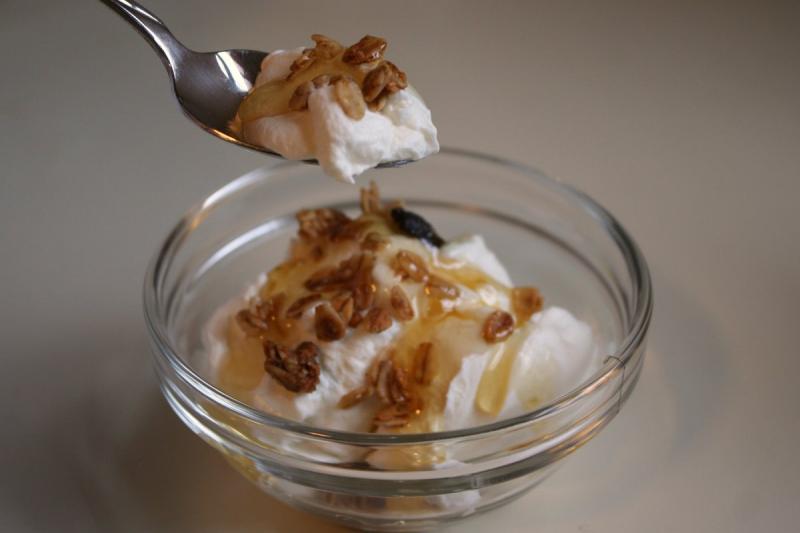 I will never forget the first time I tried Greek yogurt.
Not only was it perfectly thick and creamy, but also tangy and refreshing.
What's not to love about Greek yogurt? Besides its silky texture and delightful flavor, this heavenly yogurt is loaded with protein—twice as much as regular yogurt. It's also an excellent source of calcium, riboflavin, vitamins B6 and B12, and probiotics.
Greek yogurt also contains the good kind of bacteria cultures, which help regulate healthy digestion and can convert lactose into lactic acid. This means that it can be tolerated by people who are lactose intolerant. Did I mention it's gluten-free?
While Greek yogurt is delicious enough to eat plain—or topped with a bit of granola, honey and fruit—there are many other fantastic ways to enjoy it.
Here are a few of my favorites:
NUMBER ONE
Make a tangy and decadent Lemon-Blueberry Cake.
Let me just start by saying this is by far the most dense and moist cake I have ever seen. Most cakes that are super moist and delicious are loaded with vegetable oil, shortening, butter or mayonnaise.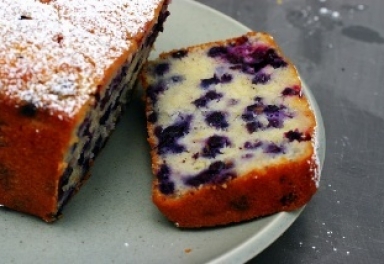 But this cake made with Greek yogurt tops all of them in moisture—the thick and creamy texture of the yogurt binds all of the ingredients together, which keeps them from drying out.
The result: a rich and velvety cake that's both sweet and tart.
An added bonus: Greek yogurt is significantly lower in fat and calories than all of the oils and fats, making this cake a more figure-friendly dessert. Plus, you get the added protein and calcium.
Lemon-Blueberry Cake
Recipe from: 365 Days of My Life as a Mom
Ingredients:
1½ cup + 1 Tbsp all-purpose flour (if you're skipping the fruit, you can also skip the last Tbsp of flour)
2 tsp baking powder
½ tsp kosher salt
1 cup plain, fat-free Greek yogurt
1 cup + 1 Tbsp sugar
3 extra-large eggs
2 tsp grated lemon zest (approximately 2 lemons)
½ tsp pure vanilla extract
½ cup canola oil
1 ½ cup blueberries, fresh or frozen, thawed and rinsed
1/3 cup freshly squeezed lemon juice
Preparation:
Preheat the oven to 350°F. Grease an 8½ x 4 1/4 x 2 ½ inch loaf pan. Line the bottom with parchment paper. Grease and flour the pan.
Sift together 1½ cups flour, baking powder, and salt into a bowl. In another bowl, whisk together the Greek yogurt, 1 cup sugar, eggs, lemon zest, vanilla and oil. Slowly whisk the dry ingredients into the wet ingredients.
Mix the blueberries with the remaining tablespoon of flour, and fold them very gently into the batter. Pour the batter into the prepared pan and bake for about 50 (+) minutes, or until a cake tester placed in the center of the loaf comes out clean.
Meanwhile, cook the 1/3 cup lemon juice and remaining 1 tablespoon sugar in a small saucepan until the sugar dissolves and the mixture is clear. Set aside.
When the cake is done, allow it to cool in the pan for 10 minutes before flipping out onto a cooling rack. Carefully place on a baking rack over a sheet pan. While the cake is still warm, pour the lemon-sugar mixture over the cake and allow it to soak in (a pastry brush works great for this, as does using a toothpick to make tiny holes that draw the syrup in better). Cool and enjoy!
Nutrition Information: Calories 290, Fat 14g, Sat Fat 2g, Protein 7, Carbohydrate 39g, Fiber 4g, Sodium 100mg; Courtesy of Elizabeth Kurtz from Gourmet Kosher Cooking
*********************************************
NUMBER TWO
Use it to replace sour cream.
It may sound strange, but unsweetened, plain Greek yogurt is a perfect substitute for sour cream. I discovered this two years ago when I was having chili for dinner (on top of which I always place a dollop of sour cream), but we were out of sour cream.
I anxiously searched my fridge for a replacement, and my options were cottage cheese, cream cheese and Greek yogurt. My mom suggested the Greek yogurt, and the thought of putting yogurt on top of my chili sounded pretty gross...but I ended up trying it anyway.
To my surprise, the Greek yogurt tasted the exact same as sour cream in my chili, except somehow it tasted so much better because of the thick consistency. I discovered two things that day:
1) Mom is ALWAYS right.
2) Greek yogurt is an amazing substitute for sour cream.
*********************************************
NUMBER THREE
Make Homemade Tart Fro-Yo.
Americans have come to love tart frozen yogurt, stirring up a Fro-Yo craze that is still going full-throttle. Hundreds of yogurt stores have opened up all over the country, making this addicting frozen treat hard to resist. I am definitely a fan of Fro-Yo, which comes with the added health benefits of probiotics that make me feel even better about eating it.
Why is it so popular? For one, frozen yogurt is a healthier alternative to ice cream, appealing to those striving for a healthier lifestyle. Second, there is something so glorifying about being able to customize your dessert with just about every topping under the sun - classics like chocolate chips and sprinkles; favorite cereals, cookies and candies; exotic fruits like lychee and even Boba.
Most importantly, Fro-Yo isn't something you can easily find outside of a yogurt shop. Some grocery stores sell pints of tart Fro-Yo in the freezer section, but it doesn't have the same soft consistency. Also, most recipes for homemade frozen yogurt don't have the tartness that makes Fro-Yo unique: until now.
Thanks to Food Network Magazine® and Greek yogurt, a replica of the plain tart Fro-Yo sold at popular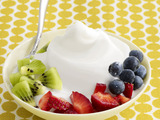 yogurt places like Pinkberry® can now be made in the comfort and convenience of your own kitchen.
It will not only save you money by making it at home instead of buying it, but you won't have to pay for toppings—which are usually pretty expensive. Artificial sweeteners, flavors and colors are eliminated as well.
Almost-Famous Frozen Yogurt
Recipe courtesy of Food Network Magazine
Ingredients:
2 cups plain whole-milk yogurt
2 cups plain nonfat or reduced-fat Greek yogurt
½ cup superfine sugar
3 tablespoons light corn syrup
Fresh fruit or other toppings, for garnish
Directions:
Whisk both yogurts, sugar, and corn syrup in a bowl until combined. Pour into an ice cream maker and freeze according to the manufacturer's instructions.

For a soft consistency, serve right out of the ice cream maker. For a firmer texture, transfer the frozen yogurt a covered container and freeze for up to 2 hours. Serve with assorted toppings.
*Superfine sugar can be made by pulsing regular granulated white sugar in a food processor until it gets a finer texture*
Send your food questions/suggestions (recipe ideas, restaurant recommendations, food questions, cooking tips, anything food related) to Veronica. Your questions and comments might be featured in next week's column!