USC Sports
NCAA Alleges Kiffin Committed Recruiting Violations at Tennessee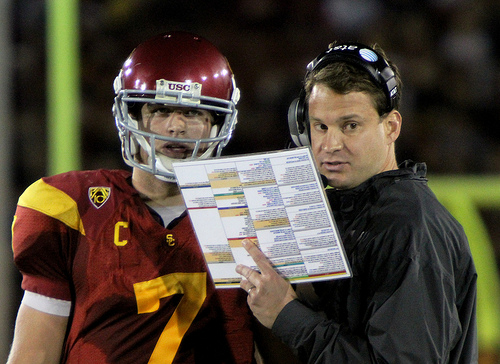 The University of Southern California announced Wednesday morning that it had received a
Notice of Allegations
from the NCAA regarding head football coach Lane Kiffin's tenure at The University of Tennessee.
Tennessee additionally was notified of allegations against their men's basketball program and head coach Bruce Pearl.
Based on their investigation into the UT football program, the NCAA concluded that the coaching staff made 16 impermissible phone calls to recruits totaling 47 minutes. Additionally, they determined that Kiffin allowed Steve Rubio, a recruiting intern, to make impermissible contact to school administrators during an off-campus recruiting visit to St. Thomas Aquinas High School in Fort Lauderdale, FL.
In the letter Kiffin was cited for impermissible recruiting activities, failure to promote an atmosphere of compliance and failure to monitor.
USC released statements from both Kiffin and athletic director Pat Haden regarding the allegations.
"We have received the notice of allegations," Kiffin said. "On the advice of my legal counsel, we cannot comment other than to say we look forward to working through the process with the NCAA."
Haden elaborated further.
"We have received from the NCAA a notice of allegations against Lane Kiffin pertaining to his tenure as the head football coach at Tennessee," he said. "The NCAA enforcement process provides for Tennessee and Lane to address those charges. Until that process is completed, it would be unfair and premature for me or USC to comment on this matter."
"However, I will say this: Since his return to USC last year as our head football coach, Lane has been vigilant in making sure he and the football program follow the NCAA's rules and compete the right way," Haden continued. "Lane has my support as our head football coach."
The Committee on Infractions hearing is set for June 10-11 in Indianapolis, at which point the parties involved will be able to respond to the allegations and present their case.
_____________
To reach Scott Enyeart, click here.