California
UC Irvine Faculty Appeal To District Attorney To Drop Charges Against Students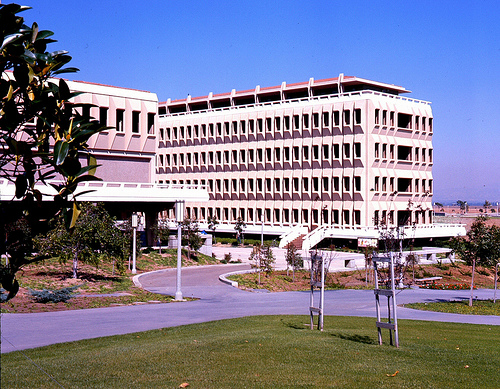 University of California, Irvine faculty members sent a letter Wednesday to Orange County District Attorney Tony Rackauckas, requesting that Rackauckas drop all criminal charges against the students who disrupted a speech last year by the Israeli Ambassador to the U.S.
The letter, signed by 100 faculty, including five deans, argued that the 11 students, who face criminal conspiracy charges, were punished enough by the university.
"This is sufficient punishment," the faculty letter says. "There is no need for criminal prosecution and criminal sanctions. The use of the criminal justice system will be detrimental to our campus as it inherently will be divisive and risk undoing the healing process which has occurred over the last year."
Following the Feb. 8, 2010 incident and a subsequent university investigation, UC Irvine revoked the Muslim Student Union's charter for one year and placed the organization on probation for another year. However, the school reduced punishment, restoring the group's charter Dec. 31, 2010 and instead adding a year of probation and 100 hours of community service.
"Their behavior is not speech protected by the First Amendment," said Erwin Chemerinsky, the founding dean of the University of California, Irvine School of Law. "But I don't think there should be criminal prosecution. University discipline, which was imposed, should be deemed sufficient."
The students, who can face anything from probation and community service to a six-month jail sentence if convicted, each face one count of misdemeanor conspiracy to disrupt a speech and one misdemeanor count of disturbing a meeting.
"Any action by the orange county district attorney is outside the authority of the university," said Cathy Lawhon, a spokeswoman for UC Irvine. "We feel that the UC student discipline process was fair and exhaustive, and that that campus process was appropriate and effective."
The Simon Wiesenthal Center, a prominent Jewish organization, said it supported the district attorney's charges.
"The public needs to be sensitized to the ramifications of disrupting someone else's free speech," said Rabbi Aron Hier, campus outreach director at the center.
The center's view contrasts with that of Jewish Voice for Peace, a group promoting cooperation with with Israelis and Palestinians, which said on Monday that the students at Irvine were unfairly targeted because they are Muslim.
In a statement last week, the district attorney's office called the protest a premeditated attempt to prevent 500 to 700 people from hearing the ambassador's speech.
"These defendants meant to stop this speech and stop anyone else from hearing his ideas, and they did so by disrupting a lawful meeting," said Rackauckas in a public statement. "This is a clear violation of the law and failing to bring charges against this conduct would amount to a failure to uphold the Constitution."
The district attorney's office said evidence indicates that MSU members intended to prevent the speech. Mohamed Mohy-Eldeen Abdelgany, 23, a defendant in the case who was president of the Muslim Student Union at the time, sent an email to the organization's message board announcing his organization's plans for "staging a University of Chicago Style disruption of the Ambassador's speech."
Eight of those charged were students from UC Irvine and three were from the University of California, Riverside, according to the district attorney's office.
"These are not criminals," said Nesma Tawil, a former MSU member. "It's all been blown out of proportion. What they've done might have been illegal in terms of university policy but it's not justification for them to get persecuted by the state."
Tawil said that several of the students are planning to purse medical careers or post-doc work, and have had their futures harmed with misdemeanor charges on their records.
Others say the district attorney's actions are a long time coming.
"If the 11 students did break the law than charges should be pursued and they should be prosecuted," said Joe Wolf, an active member of the Anteaters for Israel and Chabad at UCI. "This isn't a first time offense. The protesters were given repeated warnings during the event and the organization has a long history of this kind of conduct."
UC Irvine has long been considered a hotbed of anti-Semitic and anti-Israel rhetoric. Prior to the group's formal suspension during the fall of 2010, the MSU held an annual anti-Israel event called "Israeli Apartheid Week: A Call to Boycott, Divest and Sanction." The keynote speaker at the weeklong program, Amir Abdul Malik Ali, gave a speech titled "Death to Apartheid" in which he said "Zionist Jews" were like Nazis, voiced support for Hamas, Hezbollah and Islamic Jihad, and called for the destruction for what he referred to as the "apartheid state of Israel."
These annual events, which first gained national attention in 2002, have prompted outside groups to get involved. In 2004, the Zionist Organization of America filed a complaint with the Office for Civil Rights to investigate Title VI violations, alleging that Jewish students were entitled to protection against anti-Jewish harassment under the Civil Rights Act of 1964.
"The DA from a professional and ethical point of view should not base his position on arguments from either supporters or critics of the MSU," said Gary Fouse, an adjunct professor who has been a long-time critic of the MSU's behavior. Fouse said the MSU has engaged in far more egregious behavior, such as allegedly raising money for a Hamas-front group during an MSU sponsored event in 2009 featuring former British MP George Galloway.
The defendants in the case are: Mohamed Mohy-Eldeen Abdelgany, 23; Khalid Gahgat Akari, 19; Aslam Abbasi Akhtar, 23; Joseph Tamim Haider, 23; Taher Mutaz Herzallah, 21; Hakim Nasreddine Kebir, 20; Shaheen Waleed Nassar, 21; Mohammad Uns Qureashi, 19; Ali Mohammad Sayeed, 23; Osama Ahmen Shabaik, 22; and Asaad Mohamedidris Traina, 19.
Arraignment for the 11 defendants is scheduled for March 11 at the Central Justice Center in Santa Ana, according to the district attorney's office.