USC Sports
Trojans Keep Slim Tournament Chances Alive With Impressive NorCal Road Trip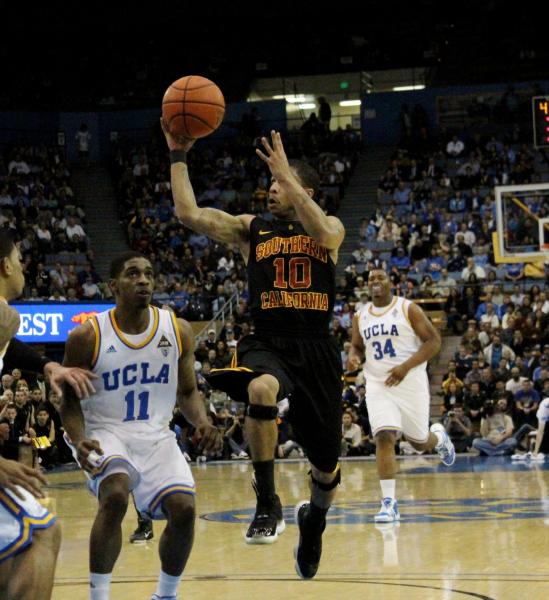 Led by the continued dominance of Nikola Vucevic and vastly improved guard play, USC swept Cal and Stanford on the road for the first time since 1992, moving into a tie for fourth place in the Pac-10 standings and closer to a bye in the opening round of the Pac-10 tournament.
If this breakout performance is a harbinger of things to come for the Trojans, the turning point undoubtedly came early in the second half against Cal, when Maurice Jones caught fire like no other Trojan has all year.
Attempting to get a spark from a set of guards that had underwhelmed, coach Kevin O'Neill decided to start Donte Smith in Jones' spot and bring the freshman off the bench for the first time all year.
Scoreless in the first half, Jones exploded for 22 points in the second half, including 13 in a row, extending the Trojans lead to double digits.
Led by Jones, USC shot a scintillating 61.5 percent from 3-point range, forcing Cal to abandon the zone defense that had stifled 'SC all year.
Vucevic played another stellar game in front of numerous NBA scouts, posting totals of 21 points and 10 rebounds.
As has become too regular an occurrence for the Trojans, they nearly blew a large lead. Trailing by 11 with 1:45 left, Cal cut the deficit to one with three seconds left. However, USC held on for a 78-75 win.
If the win at Cal was a vast improvement, the Stanford game may have been the most complete performance of the season for the Trojans.
Utilizing a size advantage in the post and exploiting coach Johnny Dawkins inexplicable decision to stay in man-to-man defense, Vucevic and Alex Stepheson each had big games. Stepheson finished with 15 points and five rebounds and Vucevic had 19 points and 14 rebounds, his Pac-10-leading 16th double double.
The Trojans shot very well again, connecting on over 53 percent of their field goals and 57 percent of their 3-point attempts. All three guards played well in contributing to a convincing 69-53 victory.
It was a pivotal trip for the Trojans, who were previously eighth in the Pac-10 standings. Their only realistic chance to make the NCAA Tournament is by winning the Pac-10 tournament, a much easier task with a first-round bye and easier second round opponent.
USC will have a chance to extend their momentum over the last four regular-season games, which include matchups with two of the conference's best teams in Arizona and Washington.
________________
To reach Johnie Freatman, click here.