National
"Like Cairo Has Moved To Madison": Wisconsin Union Protest Swells to 25,000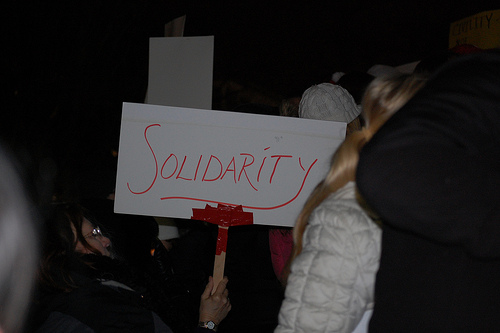 UPDATED: 1:15 PM PST: Wisconsin's Democratic lawmakers have not shown up for the vote and police officers are reportedly searching for them. However, one Democratic lawmaker said he and his colleagues left the state.

USA Today reports: "Sen. Jon Erpenbach told the Associated Press that he and his fellow Democrats hoped to force negotiations over the Republican-backed bill, but he would not say where the group had gone. The state Senate Democrats did not show up when they were ordered to attend a midday vote on the legislation. Though Republicans hold a 19-14 majority, they need at least one Democrat present to vote."
UPDATED: 12:10 pm PST: TPM reports that the financial situation in Wisconsin is not bad enough to require austerity measures, and that eliminating bargaining rights would save very little from the budget.
Thousands of state workers have inundated Wisconsin's state capitol as the legistature prepares to vote on a measure that would elminate the collective bargaining rights of teachers, nurses, firefighters and other goverment employees.
Rep. Paul Ryan (R-WI) said: "[It's] like Cairo has moved to Madison these days."
Other right-wingers have similarly painted striking workers as "rioters" and "thugs."
Wisconsin's GOP-controlled state Senate reportedly has enough votes to pass the bill, proposed by Gov. Scott Walker, by Friday. So far Walker has taken a hard line, saying he had no plans to appease the protesters by modifying the plan:
"About 10,000 teachers, nurses, city workers and firefighters chanted "Kill the Bill" and held signs outside that said 'Recall Walker,' while others squeezed shoulder-to-shoulder inside the capitol rotunda as a key legislative panel held hearings on the bill."
USA Today later reported that the crowd had swelled to 25,000.
Thursday marked the second day that many of Wisconsin's public school systems cancelled classes while teachers strike.
President Obama called the bill an "assualt on unions." Walker, employing austerity rhetotic that has become popular with Republicans since the November elections, says the state's budget deficit can't be fixed without reigning in unions.
"This is all about balancing the budget," he wrote on Twitter. "WI needs leadership."
CNN reports: "The legislation requires workers to cover more of their health care premiums and pension contributions, although supporters say local governments will decide on health care contribution for their employees. The legislation also requires collective bargaining units to conduct annual votes to maintain certification. Unions would lose the right to have dues deducted from worker paychecks and collective bargaining can only cover wages."
Wisconsin has historically been a pioneer for workers' rights, with Madison leading the way. Striking employees wonder how they will cover the extra health care and pension payment. They criticized Walker for using the budget crisis as an excuse to go after unions.
"I think it's a travesty. I think it's not what he portrays it to be. It's not about the budget, it's about trying to take away rights that workers have had for a long time. That's all it is, just trying to bust unions," union member Jeff Mehrhoff said outside the capitol building.
In an editorial debunking comparisons of Wisconsin and Egypt, Washington Post columnist Charles Lane said the governor is indeed exacting revenge on the state's powerful unions, but that the workers have no fundamental right to bargain collectively:
"By getting tough on public unions, Walker is trying to address very real financial problems -- including a $3.6 billion two-year budget shortfall -- that stem in part from unsustainable benefits that public employees have extracted in the past. Until now, Wisconsin public employees have contributed next to nothing to their pensions and far less than many private-sector employees to their health benefits."
Wisconsin's short-term budget shortfall is $137 million.