Food
Pazzo Gelato: Frozen Confections Made To Perfection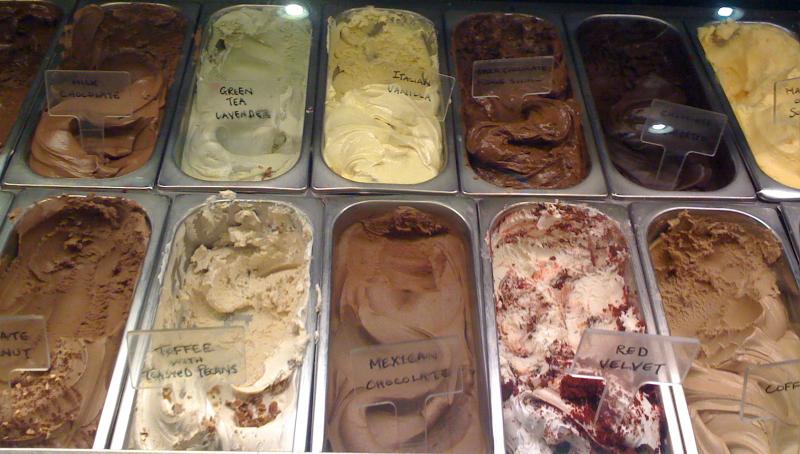 When you hear combinations like almond fig, red velvet and Mexican chocolate, it's unlikely you'll be thinking of gelato.
However, at Pazzo Gelato off W. Sunset Boulevard, they're making the most authentic gelato around and putting their own spin on the classic dessert.
Pazzo Gelato makes their gelato in house in small batches using premier quality ingredients. Every week, they gather the freshest herbs and produce from several farmers markets throughout the area and handcraft their flavors, depending on what the local vendors are selling.
Because they frequent the farmers market they are able to rotate their flavors as often as every day.
Last week they offered a fresh mint flavor. When they say fresh, they really mean it – no artificial flavors here. You can see small specks of green mint leaves in every bite. It tastes a little grassy at first, but it's not too sweet or overpowering. The mint truly is the star. You might pair this with the dark chocolate fudge swirl with real chocolate fudge running throughout the scoop. So creamy and chocolaty, it's definitely a chocolate lovers dream.
The almond fig flavor is nutty and sweet in a subtle way that is so mouthwatering. It is unlike any other flavor and is so unique, which gives Pazzo Gelato bonus points. The first bite is the best because it instantly bursts in your mouth with flavor. Pair it with their classic Italian vanilla flavor and you'll be in for a treat. The Italian vanilla flavor tastes great, but what gets you is the silk texture. It melts in your mouth instantly.
Even though Pazzo Gelato uses the best ingredients, which piles up food costs, they offer reasonable prices. A small cup goes for $2.95, plus you get your choice of two flavors. If you want, try a trio of flavors for $4.50 and if you can't get enough, try four flavors for $5.50.
If you're lactose intolerant, don't worry. They have something for you too—sorbetto. The sorbetto is also made in house and is dairy free and vegan. It's delicious. The blood orange sorbet is so fresh and light. Not to mention, the color is absolutely lovely. Combine the vanilla and the blood orange sorbetto and you may slip back into a Nestle push up flashback.
To top it off, Pazzo Gelato is an organic coffee shop with a full espresso bar. They serve Weaver's Coffee, which is a company based out of San Rafael in Marin County, Calif.
This place is definitely worth giving a try. It may even become your go to place from now on after you find that special flavor or flavors.
3827 W. Sunset Blvd., Silver Lake, (323) 662-1410.
Reach reporter GinaLisa here.