National
Obama, Gates' Military Budget Hinges On Concluding War Efforts Abroad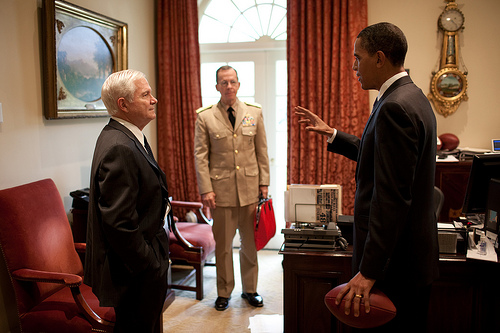 Despite symbolic cuts, the U.S. defense budget will continue to increase at record levels for the 2012 fiscal year.
President Obama has asked for $671 billion for the Department of Defense, a request that includes $553 billion to fund base defense spending and $118 billion to support overseas contingency operations (OCO), primarily in Afghanistan and Iraq.
The $118 billion for Afghanistan and Iraq is a 26 percent decrease from last year's request of $159.4 billion, symbolizing the administration's dedication to reducing troop levels in both countries.
Overall, the Defense Department budget is declining, with funding for overseas contingency operations dropping by $41.5 billion. According to the DOD, the decline is mainly due to military operations winding down in Iraq.
"That doesn't mean that he's cutting the defense budget necessarily," explained Winslow Wheeler of the Center for Defense Information. "That just means that he's growing it less. The defense budget is still going to grow, but in Washington DC, we call that a cut."
Defense Secretary Robert Gates said the proposed budget "represents, in my view, the minimum level of defense spending that is necessary, given the complex and unpredictable array of security challenges" currently facing the U.S.
However, Gates said that he was concerned by recent talk about the nation's defense budget.
"The debate over the defense budget in recent days and weeks is becoming increasingly distant from strategic and operational reality – distant, in other words, from the real world," Gates said, at the Pentagon. "In fact, suggestions to cut defense by this or that large number have largely become exercises in simple math, divorced from serious considerations of capabilities, risk and the level of resources needed to protect this country's security and vital interests around the world."
View his full address to the Pentagon here.
Wheeler – who is also the Director of the Straus Military Reform Project – said under Gates program includes a plan to reduce the military budget by $78 billion over the next five years. Although Gates has promised to cut $78 million in military spending, the majority of that reduction will not take place until 2014 and 2015, when the government expects military operations in Iraq and Afghanistan to be concluded.

"In spite of these plans, we are operating now at post-WW2 highs, with the highest levels ever occurring two years ago," Wheeler said. Nonetheless, "2012 will be marginally above" that because of fluxuation in the war budgets.
Republican leaders are particularly concerned about cuts to overseas military operations. Rep. Howard "Buck" McKeon of California echoed the sentiment of many Republican leaders worried of the decrease in DOD funds.
"A defense budget in decline portends an America in decline," McKeon said. "I've been around a long time, and I've seen us cut defense investments over the years after wars… but I've never before seen us make cuts during a war. Cuts to defense investment in the midst of two wars is unacceptable."
To reach Benjamin Gottlieb, click here.
Follow him on Twitter @benjamin_max.