California
California's Latest Medical Marijuana Bill Pits Same Groups Against Each Other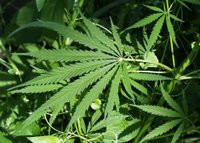 A new year, a new marijuana bill in California.
Sen. Mark Leno (D-San Francisco) introduced a new bill last week that would make it illegal for employers to fire a worker over a positive drug test if he or she has a registered medical marijuana card.
Currently, marijuana is legal in California if prescribed by a doctor, usually for serious illnesses such as AIDS, cancer, chronic pain and arthritis.
Just a few months after Proposition 19 failed to make marijuana legal in California, civil liberties groups and anti-drug organizations have seemingly returned to opposing sides of the fence. This is the second time Leno's attempted to protect medical marijuana users from getting pink slips; his 2007 assembly bill passed through Democratic majorities in both houses before former Gov. Arnold Schwarzenegger, a Republican, vetoed it. Critics of the proposed legislation say the bill that seeks to save jobs would actually be enough to steer employers away from creating jobs in California.
While the American Civil Liberties Union has endorsed Leno's previous bill and Prop 19 in the past, its attorneys are still reviewing SB 129 before officially announcing its position.
"We are opposed to employee drug testing and we support medical marijuana and medical marijuana patients, so I'm virtually certain that we will support this bill," said Allen Hopper, the police practices director at the ACLU of Northern California affiliate. "But our lobbyists are still taking a look at it just to make sure."
The main opposition to the vetoed AB 2279 in 2007 was the California Chamber of Commerce, which also opposed Prop 19. The Chamber, the state's largest business lobbying group, has repeatedly declined to comment or take a position on SB 129.
One group that has firmly taken a position against the bill is the Coalition For a Drug-Free California.
"Should it pass, [SB 129] will provide one more reason why employers will leave California," said Roger Morgan, chairman and executive director of the Coalition. "[One more reason] why employers that succumb to the policy will be less competitive, and why marijuana will continue to be ignored as a major factor is California's $28 billion budget problem."
Leno and Assemblyman Tom Ammiano (D-San Francisco) were on hand Saturday at a conference in Berkeley for the California chapter of the National Organization for the Reform of Marijuana Laws. Ammiano, a lawmaker who publicly backed Prop 19, said he would continue to push for the legalization of marijuana, but would take a step-by-step approach.
Leno is not only trying to re-pass this law, but also he is trying to use legislation to overturn a California Supreme Court decision in 2008 that made a positive drug test grounds for termination.
"I do disagree with the State Supreme Court decision, but the court also requested that the Legislature clarify this issue," Leno said. "We're just doing what the court instigated."
Hopper agreed the case between medical marijuana user Gary Ross and his employer RagingWire Communications pointed out the need to come up with a legislative remedy to keep medical marijuana users employed.
"That case was very narrowly gauged upon the language of current law," said Hopper, who also noted the substantial margins by which AB 2279 passed. "So it was really the Supreme Court was just saying there was nothing specific under SB 420 or Prop 215 that extended protections to employees from adverse action based on drug tests. This is precisely the job of the legislature: to amend the law in the wake of that Supreme Court decision, to make it explicitly clear that, in fact, employees are protected."
While the ACLU is concerned with the privacy rights of employees, Morgan worries about the impact on employers and their ability to compete with workers who smoke marijuana.
"Marijuana remains a Schedule I drug under federal law because it is harmful, addictive and has no accepted medical use," Morgan said. "To impose the 'medical marijuana' hoax on employers and say they must not discriminate in hiring or retaining pot smokers will further erode their ability to compete and it will drive more businesses and jobs out of state."
SB 129 exempts some jobs from the no-firing rule altogether, such as health care workers, school bus drivers and operators of heavy machinery. This is was a major complaint among some editors regarding Prop 19, which was frequently attacked for vague language.
"The language in Prop 19 about employees and drug testing really wasn't as clear as certainly that I would've liked," said Hopper. "I think the way the legislature has done it in Sen. Leno's bill is very responsible because they have an explicit exception for safety-sensitive positions. They define safety-sensitive positions in the language of the statute in such a way that it really does protect the public. If you are in a position where marijuana use might endanger the public, stricter standards apply."
The Coalition does not see why the quality of work standards should change between jobs in different fields. Morgan cited studies by Dr. Albert Stuart Reese from the University of Queensland that said marijuana use "reduced quality and quantity of work and intellectual impairment" as well as resulted in impairments in concentration, memory and learning ability.
"It is irrelevant whether one smokes on the job," he said. "If they smoke or consume marijuana at all, they are already impaired. The degree depends on the frequency of use and potency."
As far as conflicts with federal drug laws, neither the Coalition nor the ACLU feel it will influence voting by legislators in California.
"Being in conflict with federal law doesn't seem to matter to this legislature," Morgan said. "They need to enforce state laws, like the Sherman Food, Drug and Cosmetic [Law], which should apply to marijuana since it is being sold as a food and drug."
Hopper fired back, saying there people are misreading the Federal Drug-Free Workplace Act, which requires that employers take reasonable steps--if they have federal contracts--to ensure there is not illegal drug use on the premises and in their workplace.
"[SB 129] doesn't conflict with federal law at all and isn't stopping the federal government from doing what it wants to do," Hopper said. "There's no federal law that requires an employer to take disciplinary action against someone for using medical marijuana."
Leno said he expects to debate the bill on the Senate floor in May, with a target date of August for Gov. Jerry Brown's desk.
In the City of Los Angeles, Proposition M will be on the March ballot. If approved by a majority of voters, the measure would tax medical marijuana dispensaries to generate funds for various city services.
To reach reporter Susan Shimotsu, click here.
Follow her on Twitter: @susanfromtx.