International
Libyan Opposition Takes Zawiya, Spoils Gaddafi's Press Tour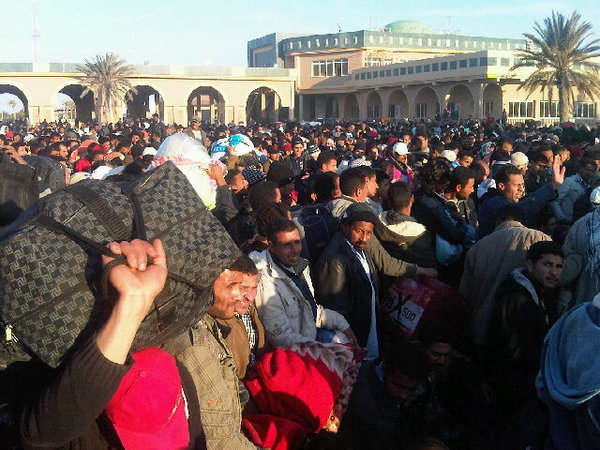 Col. Moammar Gaddafi wanted to show foreign journalists that he has everything under control.
But when his outreach staff took the press on a tour of Zawiya, a city of 200,000 about 30 miles west of Tripoli, it became clear that opposition forces have full command of it.
"The public relations effort, apparently intended to show a stable Libya to the outside world, appeared to backfire, as a tour of Tripoli had on Saturday.
Instead, the tour, whose minders were forced to wait at the city's outskirts, showed a nation where the uprising had reached the capital's doorstep, underscoring a growing impression that the ring of rebel control around Tripoli was tightening."
Gaddafi is unwilling to relinquish his stronghold on the capital of Tripoli, however, and opposition leaders are prepared for a protracted fight.
The LA Times wrote:
"[Gaddafi's] son Seif Islam continued his appearances on international television broadcasts to assert that the government was regaining control, and the government attempted to appease the uprising with an announcement on state television Sunday that $400 grants would be distributed to each Libyan family as part of the "beginning of the redistribution of oil wealth to Libyans."
The international community has consensus that Gaddafi should relinquish power; the United Nations unanimously imposed a "travel and assets ban" Saturday and President Obama called for his immediate resignation.
Zawiya is a strategically important city: "Close to an oil port and refineries, Zawiya is the nearest population center to Tripoli to fall into the opposition hands. Police stations and government offices inside the city have been torched and anti-Gaddafi graffiti is everywhere. Many buildings are pockmarked by bullets."
Residents in Zawiya were heard shouting "Free, free Libya" Sunday, the same day Gaddafi told Serbian television "The Libyan people are fully behind me."
As many as 1000 people may have been killed this weekend by Gaddafi loyalists.