International
Libyan Oil Economy May Doom True Revolution
Most oil fields in eastern Libya are now reportedly under the control of rebel forces trying to ouster Lybian strongman Muammar Gaddafi. The rebels say they will honor the previous oil deals as long as the deals are not based on corruption, Reuters reports. Experts worry, however, that no matter who controls the oil fields, the country's reliance on its natural resources for its economy may doom it politically.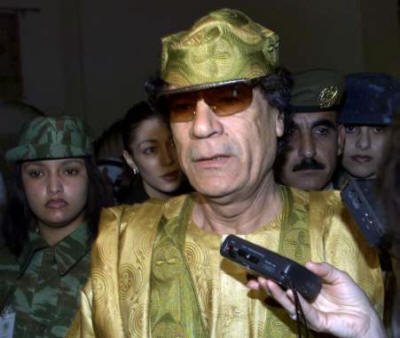 Oil has been a primary focus of the discussions of the crisis in Libya, which is the 17th biggest oil-producing nation in the world. Oil-workers have fled the country since the protests began, causing a sharp rise in prices. Oil prices jumped 6 percent worldwide on Tuesday as the unrest flared up.
Control of Libya's oil fields is critical in the rebellion against the Gaddafi regime, but oil is also a main source of the country's ills, which has experts worried that Libya has a slimmer chance of undergoing a true revolution than either Egypt or Tunisia.
Economists diagnose the oil-rich country with a "resource curse," according to Adam Davidson of NPR's Planet Money. Economist Jeff Porter told NPR that 81 percent of Libya's economy is oil exports and an additional 17 percent is services, most of which are oil- and gas-related, meaning that essentially 98 percent of the country's economy is oil-based. Davidson reports:
Countries with lots of natural resources tend to be extremely corrupt with oppressive leaders. Why? Because those leaders make a lot of money simply by controlling the natural resources. And they use some of that money to buy guns and mercenaries and the loyalty of some of the citizens, and all that gives them even more power.
If correct, that will hold true no matter who controls the oil fields. Time magazine has analyzed the potential effects of the upheaval on the world economy:
Libya's oil output, typically 1.7 million barrels a day, has fallen by more than half since Tuesday, and its energy exports have ground to a complete halt. Worse news still for global oil markets is that there is no knowing when those skilled expatriates whose presence is crucial to the operations of Libya's energy industry might return.
The Associated Press reports that Spain has announced it will lower the speed limit in order to counter the effects of the skyrocketing oil prices.