Los Angeles and Region
L.A. Today: Union Station, Brown, And More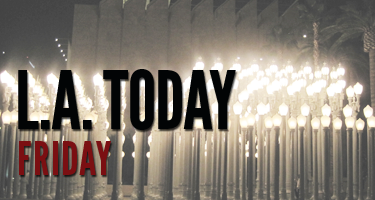 Gov. Jerry Brown is returning to Los Angeles today. The L.A. Times says Brown has secured the Los Angeles Area Chamber of Commerce's backing for his tax proposal and will be in town to trumpet the accomplishment.
Brown wants voters to approve a series of tax extensions in order to stave off even more cuts than the $12.5 billion he proposed. Winning the support of the business community will be crucial to gaining the Republican votes needed to put the extensions on the ballot.
Union Station has a new owner. The Metro board scooped up the station for $75 million, the L.A Times reports. Securing ownership of the site will allow Metro to make improvements needed for an expected influx of passengers as new transit projects come online. But some Measure R projects could be in trouble: L.A. Streetsblog reports revenue from the sales tax is coming in less than expected due to the recession.
The controversial Electric Daisy Carnival is packing up and moving to Las Vegas, KTLA reports. A cozy relationship between the rave's producer and a Coliseum Commission official led to the resignation of the commission's general manager earlier this month.
Reach reporter Andrew Khouri here.