Science
Kepler Telescope Spots Potentially Habitable Planets, Six-Planet System
NASA's Kepler telescope has detected more than 1,200 possible planets and 54 of them are in the habitable zone, the agency announced Wednesday.
The findings increase Kepler's planet candidates to 1,235. Of these, 68 are approximately Earth-sized, 288 are super-Earth-sized (up to twice the size of Earth), 662 are Neptune-sized, 165 are Jupiter-sized and 19 are larger than Jupiter. Of the 54 planet candidates found in the habitable zone--a region where liquid water could exist on a planet's surface-- five are near Earth-sized and 49 range from super-Earth-sized to larger than Jupiter.
Kepler surveys approximately 1/400 of the sky, with more than 156,000 stars in its field of view. The findings are based on results of observations conducted May 12 to Sept. 17, 2009.
"The fact that we've found so many planet candidates in such a tiny fraction of the sky suggests there are countless planets orbiting sun-like stars in our galaxy," said William Borucki of NASA's Ames Research Center in Moffett Field, Calif., the mission's science principal investigator. "Now, these are candidates, but most of them, I'm convinced, will be confirmed as planets in the coming months and years."
Prior to Wednesday, the number of known exoplanets--planets outside our solar system-- stood at roughly 520. If follow-up observations from ground-based telescopes verify Kepler's candidates are actual planets, findings would triple that number.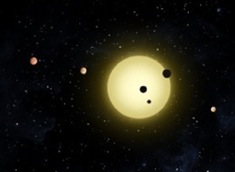 The mission also discovered six planets orbiting Kepler-11, a sun-like star approximately 2,000 light-years from Earth. It is the most closely packed planetary system yet discovered outside our solar system.
The planets--composed of a mix of rock and gases--are all larger than Earth, with the five inner ones ranging from 2.3 to 13.5 times the mass of Earth. The five inner planets also have orbital periods less than 50 days, so their orbits are smaller than Mercury's. The sixth planet is larger and has an undetermined mass. It is much farther out, with an orbital period of 118 days.
The spacecraft has found only one other star with more than one confirmed transiting planet: Kepler-9, which has three.
"So we know that systems like this are not common. There's certainly far fewer than one percent of stars that have systems like Kepler-11," said Jack Lissauer, a planetary scientist and Kepler science team member at NASA's Ames Research Center. "But whether it's one in a thousand, one in ten thousand or one in a million, that we don't know, because we only have observed one of them."
Kepler-11 findings are published in the Feb. 3 issue of the journal Nature.
The planet-hunting mission launched in March 2009 and will continue through November 2012. It has spotted a total of 15 exoplanets.