California
Jerry Brown's Job Made Easier If L.A.'s Coastal Cities Vote Big For Ted Lieu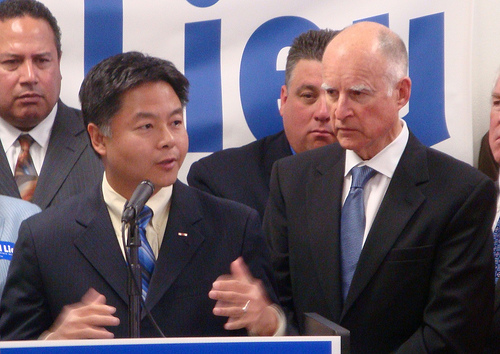 Governor Jerry Brown would need to convince one less Republican to put a series of tax increase extensions in front of voters if all of the Legislature's Democrats stand behind him and Ted Lieu can garner more than 50 percent of the vote in a special election on Tuesday.
Lieu is the clear front-runner among eight candidates vying to replace the late Jenny Oropeza as the state senator for California's 28th district, which stretches up the Pacific Coast from Carson and Long Beach in the south to the edge of Santa Monica in the north.
But if Lieu fails to capture more than 50 percent of the vote in what should be an incredibly low-turnout election, he and the second-place finisher would be thrown into a run-off in April. That would be more than a month after the Legislature must vote to approve Brown's ballot measure.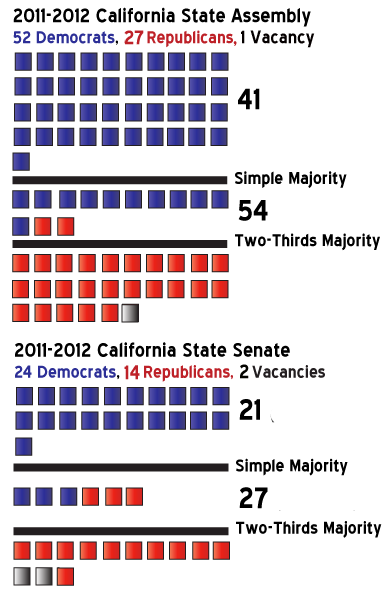 Brown has professed a desire to earn broad Republican support for his budget framework, which equally relies on maintaining current tax revenues and cutting state spending. Little Republican support however has emerged in the first 37 days of a budget process that Brown wants to wrap up 23 days from now.
Republicans in the Legislature are adamantly opposed to showing any signs of supporting taxes. Brown has pushed them to offer alternatives. He hinted last week that Republicans may unveil some new cost-cutting proposals in the next few days.
If the 41-year-old Lieu avoids a run-off, the State Senate could inaugurate him next week. His election combined with the expected election of Republican Sharon Runner in the 17th Senate District on Tuesday would change the balance of power in the Senate to 25 Democrats and 15 Republicans.
Runner is facing only one challenger—Democrat Darren Parker. That race isn't expected to continue beyond Tuesday because the 17th District consistently votes for Republican candidates and Runner is trying to replace her husband. Her election would not really change anything as far as Brown is concerned.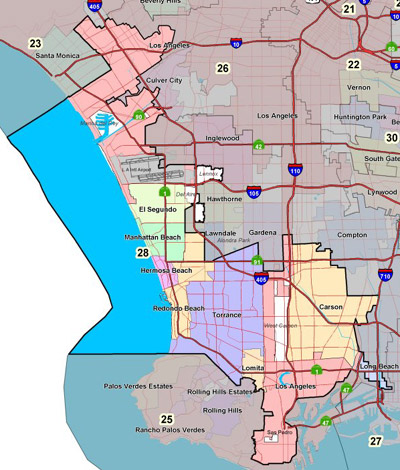 Instead, it's 465,000 registered voters (
48 percent
of them registered Democrats) in the South Bay that have the power to reduce the number of Republican votes Brown needs for his ballot plan from five to four.
Lieu is a Sacramento veteran, having served six years in the State Assembly until term limits forced him out two months ago. He represented about half of the area he's now trying to oversee.
Among his accomplishments as an assemblywoman was one controversy. He was one of several lawmakers to co-author the legislation that allowed real estate developer Ed Roski's proposal for a football stadium in the City of Industry to bypass an environmental review. Roski had donated $13,000 to Lieu's campaigns.
Most of the major Democrats at the state and local level have backed Lieu, from Senate President Pro Tem Darrell Steinberg to L.A. City Councilwoman Janice Hahn. He has huge fundraising lead, picking up major donations from attorneys, labor groups and technology companies throughout the state. Sizable outside donors during the six-week campaign season have included Visa and Anthem Blue Cross.
Lieu told Neon Tommy last week that he supports Brown's budget plan in design, but if elected, he may suggest that some of the necessary cuts be made in different programs. Lieu refused to specify what cuts he has concerns about, saying he would wait until elected to deeply analyze the budget.
Only about one in 10 voters may show up for this election, political analyst Allan Hoffenblum told the Daily Breeze. The election is expected to cost taxpayers about $1.7 million—almost twice as much as Lieu and his competitors have raised in donations for their campaigns.
Reach executive producer Paresh Dave here. Follow him on Twitter: @peard33.