USC Sports
Ice Cold Trojans Lose in Westwood
Twenty-five minutes.
USC's basketball team went the final 25 minutes Wednesday night at Pauley Pavilion without making a single perimeter shot.
Despite 18 points from forward Nikola Vucevic, the Trojans (12-11, 4-6) fell 64-50 to their crosstown rival UCLA (15-7, 7-3).
Instead of going cold, USC built igloos.
They scored only 15 points in the second half while making only seven field goals.
-- BREAKING IT DOWN --
Key moment: A Maurice Jones layup with 11:43 remaining cut UCLA's lead down to a single point. This was the moment when hell -- or at least the Trojans' scoring touch -- froze over.
USC scored only five points in the final 11:43 as the Bruins ended the game on a 16-5 run.
Player of the game: Alex Stepheson.
He didn't put up any gaudy statistics, but Stepheson had a solid game. For the first time in four games, he scored in double figures.
He finished with 14 points on 5-of-9 shooting despite going up against the 6-foot-10, 305-pound lumbersome load that is Bruins' center Joshua Smith.
He also grabbed eight rebounds and nearly had his sixth (out of 23 games, mind you) above 50 percent free throw shooting performance of the season. He made four of his first six, but bricked his final two of the game.
Most Spectacular Play: Donte Smith thought he had an open fast break layup and an opportunity to close UCLA's eight-point lead with a little more than four minutes. Instead, Smith found himself stumbling to the ground.
The Bruins' Lazeric Jones had chased him down in the open court and cleanly rejected the shot. Jones stuffed the ball back into Smith's hands, knocking Smith off-balance and sending him hurtling toward the hardwood.
That's just the way it seemed to go for the Trojans and their guards throughout the night.
Unsung Hero: Lack of turnovers.
The Trojans had a season low five turnovers with only Nikola Vucevic having more than one. Too bad it didn't help.
USC has only turned the ball over 13 times in its last two games but is 0-2. Strangely, USC is only 3-3 this season when they commit less than 10 turnovers.
"We only had five turnovers," USC coach Kevin O'Neill said. "But we didn't make enough [shots] and they made them."
"Step It Up:" Starting guards.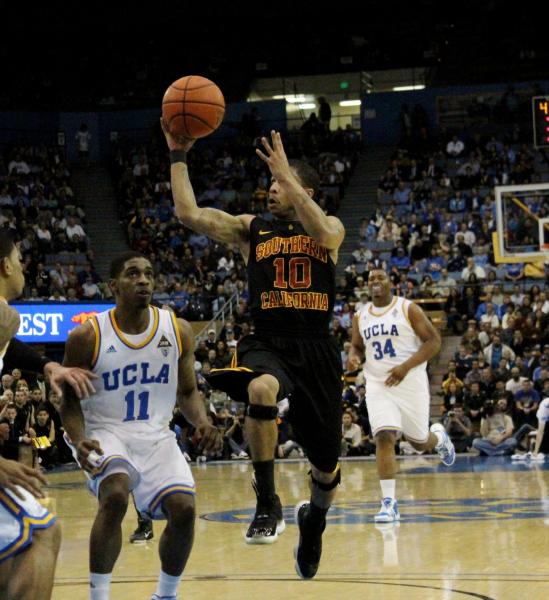 USC couldn't even use discretionary funds to buy a perimeter basket and not one of USC's starting guards played well. They combined for only seven points.
The team's second-leading scorer, Jio Fontan, was held scoreless for the second time in three games. Prior to the Arizona State game last week, he had never been held scoreless in his collegiate career.
Marcus Simmons, USC's defensive stopper, didn't stop anyone but himself as he got himself into foul trouble. He picked up a pair of egregious fouls -- one for holding a Bruin while UCLA was trying to inbound the ball and one when came across to help from the weak side and left his feet to attempt to block at show rather than just standing his ground. He only played 13 minutes.
And though Maurice Jones played 35 minutes, he only managed two points. He did have three assists and two steals, but USC obviously needed more production.
Key stat: -14. The Trojans were outrebounded by 14, losing the rebounding battle 39-25. It's a pretty telling statistic that the Trojans are 10-4 when they outrebound their opponent, but only 2-7 when they lose the rebounding battle.
Sideline Strategy: Getting Vucevic the ball.
USC tried to go to leading scorer Nikola Vucevic as often as possible down on the block early in the first half and in the middle of the second half.
But UCLA coach Ben Howland mixed up the defenses sending double teams early and allowing Reeves Nelson to play Vucevic straight up in the second half. At one point in the second half, Vucevic got the ball one-on-one down on the block three consecutive possessions, but was unable to score.
"The bottom line is that they shot 39 percent," Howland said. "The key was stopping the double-team on Vucevic. Reeves Nelson was huge, playing one-on-one against him."
Vucevic finished with a game-high 18 points, but it took him 16 field goal attempts.
Where They Stand: USC has now lost five of seven games since beating UCLA in the Galen Center. The Bruins have won six of seven since that game. The two teams are headed in complete opposite directions.
The Bruins have found a solid cohesive rotation with Joshua Smith providing energy when he checks in as the sixth man while the Trojans look tired and weary due to the depth issues they have. USC has not had consistent outside shooting all season and it has really caught up with them recently.
UCLA is currently a NCAA Tournament-bound team. The Bruins have solidified the No. 3 seed in the Pac-10 and are sitting only a half game behind both Arizona and Washington.
As for USC, the loss Wednesday almost certifies this team will not have a shot at an at-large bid from the NCAA Tournament selection committee. The Trojans would need to win out to have that chance and they still have to travel to the Bay Area and to the Washington schools.
Their best bet to make the NCAA Tournament is to make a run and take the automatic bid that goes to the Pac-10 Tournament winner.
To reach Shotgun Spratling, click here, or follow him on Twitter @BlueWorkhorse.
Sign up for Neon Tommy's weekly e-mail newsletter.