Film and TV
"Hall Pass" Has Genitalia Shots Galore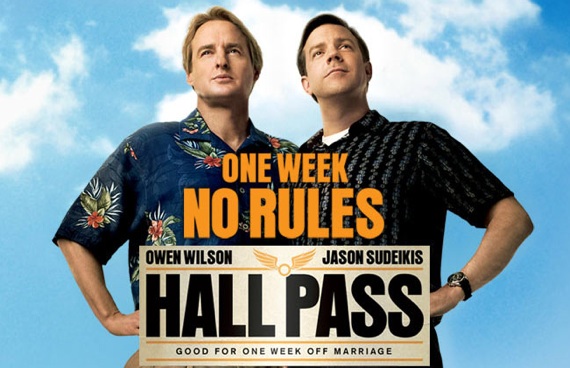 It's only fitting that a movie about two men beyond their glory days comes from, well, two men in the same predicament.
In the Farrelly brothers' latest show of bodily fluids, "Hall Pass," we see the same vulgar, sexual comedy we have come to expect from the directors of "There's Something About Mary" and "Shallow Hal," and while it may have been funny then, it's just not funny here.
Despite having an impressive cast of stars including comedic regular Owen Wilson and SNL cast member Jason Sudeikis, this film fell short of its potential. In fact, in its attempt to get a laugh out of the audience using close-­‐ups of genitalia and bathroom accidents, the film felt more sickening than entertaining.
The premise is simple, a lack of passion in two middle-­‐aged marriages. The opening scenes show Rick (Owen Wilson) as the perfect dad and competent husband… that is until he teams up with Fred (Jason Sudeikis).
Together these grown men manage to embarrass and disgust their wives in public and among their peers, even imitating a vagina on a secret camera in the home of another couple as the couple and their own wives look on, unbeknownst to Rick and Fred.
Marriage in this movie means these two men have been forced to perfect the art of gawking at other women and masturbating in minivans.
When the mounting dissatisfaction and constant public humiliation caused by their husbands comes to be too much, Grace (Christina Applegate) and Maggie (Jenna Fischer) decide to follow one of their older, wiser friend's advice and give their husbands the life every man wants: that of an eligible bachelor. Well, for a little while anyway.
Once we get past the stilted dialogue that lays out the parameters of this "hall pass," a week's vacation from marriage, the stage is set for the rest of the painfully unfunny and crude movie.
As soon as the wives are out of town, the seven-­‐day countdown begins. The first night of the week is the highlight of the movie, if only because the men team up with their sidekicks (we've got the awkward geek with an accent, the black guy, and the fat friend) and they head to the ultimate anti-­‐glamour establishment in America: Applebee's.
Not quite sure if that was the best marketing tactic on Applebee's behalf as the men end up comatose by barbeque and cheap red wine, their lips stained and their bowels in an uproar.
They find themselves too tired to chase women and vow to start the hunt the next night. As the week goes on, the men employ many different strategies to pick up women, clearly a task they haven't taken on in a few… maybe 20 years.
Rick takes the lead by striking up conversation with the Australian barista at their favorite coffee shop. He joins the same health club as her and comes close to victory, but falls asleep in the Jacuzzi and has to be helped out by men with sharply contrasting genitalia.
This is the biggest slap-­‐in-­‐the-­‐face moment of the movie, and one that leaves viewers thinking why they paid money to watch it.
Fred, the less attractive and more overeager one of the pair, even brings out a piece of notepad paper with pick up lines on it, only to end up spending the next day attached to his sleep apnea facemask in bed, sleeping off a hangover.
After much coaching from Coakley (Richard Jenkins) and desperate to take advantage of his "hall pass," he brings a girl back to the communal motel room he and Rick have been sharing. She ends up leaving her mark on the bathroom (a real treat to watch) and being sent home in a cab.
At this point you begin to wonder if the men are going to accomplish anything or not.
Meanwhile, on the Cape for the weekend, the wives find themselves enjoying their time with the University of Miami's baseball team. With so many references to college life in the movie, one begins to wonder how much the Farrelly brothers miss it.
Surrounded by dashing young athletes, these women must decide if they themselves are on a "hall pass" and if they even want to be. Amidst the constant degradation of women in this movie, Grace and Maggie come out on top here, allowing themselves the same privileges their husbands are enjoying.
But just to be sure to not give them too much credit, they don't engage in any comedic dialogue or witty endeavors throughout the movie.
The Farrelly brothers certainly know how to make seemingly capable people look stupid, we've all seen "Dumb and Dumber" and we all laughed at it. But when a movie needs to coin terms such as"fake chow" (you don't want to know) to beg for a laugh, a line needs to be drawn.
Devoid of anything that closely resembles wit, this movie ends happily if only to try to help the audience erase the images it has just been forced to see for some 80 minutes.
Perhaps the Farrelly brothers felt a happy ending was their only chance for redemption after crafting a movie based entirely around grown men acting like children, but without anything original to say.
Whatever their motive may have been, the only thing the viewer will want while watching this movie is a hall pass of their own-­‐ out of the theater.
Reach Sarah here.