Nation and World
Gov. Scott Walker's Attempt To Close Wisconsin Capitol Fails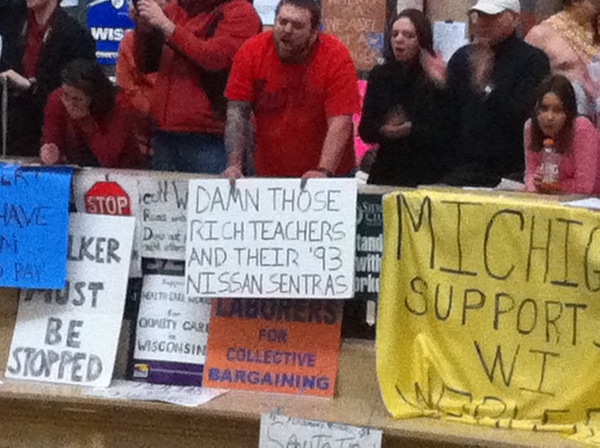 UPDATED 6:45 p.m. PST: Police have caved, allowing protestors to stay overnight yet again.
"The people who are in the building will be allowed to stay," Capitol Police Chief Charles Tubbs said Sunday night. "There will be no arrests unless people violate the law."
UPDATED 4:18 p.m. PST: After threatening to arrest those who stayed, police have shown no indication that they are ready to detain anyone. Mother Jones' Andrew Kroll estimates between 800-1000 people remain. The standoff continues.
UPDATED 2:06 p.m. PST: Hundreds of people remain inside the building despite announcement that it is closed. Doors have been locked. Protest organizers urging extreme calm, police expected to begin making arrests shortly.
As Madison demonstrators revel in an unprecedented turnout for workers' rights this weekend, estimated at more than 70,000 participants, Gov. Scott Walker will try to take the wind out of their sails.
He has ordered the Wisconsin Capitol closed at 4 p.m. CST Sunday, an attempt to end two weeks of occupation by nonviolent protesters who have assembled to oppose his budget legislation.
Fliers were distributed to those inside the building, reading:
"If faced with a request to leave the building, the protester has two choices: to stand up and leave (the lawful choice), or to ignore the request and stay (the unlawful choice). Attorneys cannot recommend that a person violate an ordinance or commit a crime."
A number of protesters have pledged that they will make "the unlawful choice." The Wisconsin AFL-CIO released a statement saying that "hundreds might risk peaceful arrest" as police officers inside the Capitol grew nervous.
One protester said: "I'll be very respectful, but we're not going anywhere."
Andrew Kroll with Mother Jones tweeted:
"Having been here 10 days now, I can say the cops look quite noticeably uneasy today, pacing around awkwardly."
The Wisconsin State Journal reported: "The Department of Administration said the Capitol is in bad need of cleaning after 13 days of 24-hour occupation. Protesters have not trashed the building, but it has taken on the funky locker room aroma of body odor, sweaty feet and deodorant."
Walker has shown no sign that he is willing to negotiate with his opponents.
On NBC's "Meet the Press" Sunday, Walker reiterated his talking points:
"We're facing a $3.6 billion dollar deficit. With this budget repair bill, we give those schools and local governments almost a billion and half dollars in savings. The reality is, collective bargaining does have a cost."
Visit msnbc.com for breaking news, world news, and news about the economy
The latest reports indicate that police won't resort to dragging protesters out of the Capitol, so it's likely some demonstrators will remain overnight. Meanwhile, hundreds of people continue to wait in line to enter the building.