International
Egypt Protestors Keep Heat On Mubarak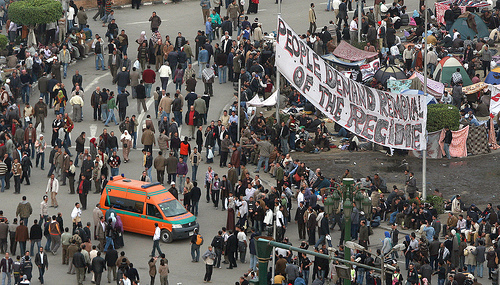 Protestors in Egypt on Tuesday rallied behind inspirational words from a Google executive held in captivity blindfolded for 12 days by Egyptian security forces; marched on the parliament for the first time; and displayed no signs of relenting in their passionate show of collective reprisal against the administration of President Hosni Mubarak.
"We will not abandon our demand and that is the departure of the regime," Google's marketing chief for the Middle East, Wael Ghonim, said to protestors in what BBC reporters say was the largest demonstration in Egypt since the protests began.
Some protestors moved beyond Tahrir Square in the center of Cairo for the first time, sitting out in front of the parliament building as President Mubarak signed an official decree that opens the way for the Egyptian government to begin drafting constitutional reforms.
Mubarak is said to by eyeing a trip to Germany for a regular medical check-up. Vice President Omar Suleiman appears to be heading the transition efforts under him, but the protestors want Mubarak out of the picture altogether. The U.S. and E.U. supports him staying in power during the transition and he has refused to step down.
A cool rap video about what has transpired since Jan. 25:
Al-Jazeera's Tuesday wrap-up video:
The Associated Press version of Tuesday's events: