Science
Space Shuttle Discovery Launched For Final Time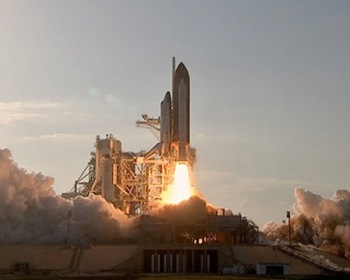 Six humans flew into space on Thursday aboard shuttle Discovery's final voyage, STS-133.
After a nearly four-month delay, NASA's most flown shuttle lifted off from Kennedy Space Center in Florida at 1:53 p.m. PST to head to the International Space Station. Discovery already completed 38 missions, beginning with its first in 1984.
The 11-day mission will deliver a new module, spare parts and Robonaut 2--the first humanoid robot to go into space.
Discovery's crew is all veteran astronauts: Steve Lindsey commands the flight, and he is joined by pilot Eric Boe and mission specialists Alvin Drew, Steve Bowen, Michael Barratt and Nicole Stott. Bowen replaced Tim Kopra, who became injured in a bicycle accident in January.
"With Discovery's mission, the United States once again reaches for new heights, pushes the boundaries of human achievement and contributes to our long-term future in space," NASA Administrator Charlie Bolden said in a statement.
The flight was originally scheduled for November but was grounded due to weather and technical issues.
Discovery will dock to the space station on Saturday, the agency said.
Two more shuttle missions remain--Endeavour's STS-134 for April and Atlantis' STS-135, if funded, for June--before NASA retires the orbiters this year.