National
Borders Files for Chapter 11 Reorganization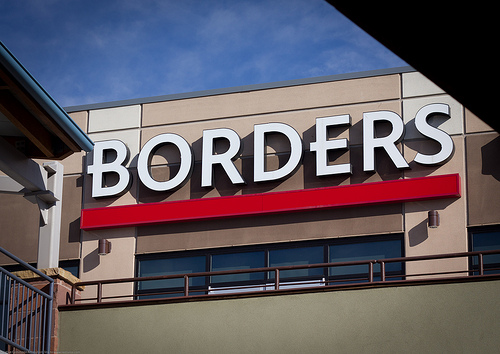 Print is dead. At least that is the impression one may have upon hearing that Borders, the number two bookseller chain in the United States, filed for bankruptcy reorganization on Wednesday.
A press release cited poor sales and heavy debt as the reason for the Michigan-based company's filing. The reorganization plan calls for the closing of nearly a third of the bookseller's 642 stores nationwide. Twenty-one Southern California stores are among the 200 underperforming stores that will be closing in the next several weeks. A list of store closings can be found here.
So, are e-books to blame for Borders's financial woes? According to an April 2010 New Yorker article that heralded the announcement of Apple's iPad, e-books only represented three to five percent of all book sales in 2009. While that percentage sounds small, the number showed a 177 percent increase from 2008 e-book. Amazon, the company that started the e-book craze with the release of the Kindle, sold more e-books than hardcopy books in the second quarter of 2010 and Amazon's e-book sales continue to grow. A customer can purchase an e-book, whether it is on the Kindle, the iPad or the Nook (sold by Barnes & Noble), for about half the price of the hardcover version.
Some experts think Borders's loss could be Barnes & Noble's gain. But Barnes & Noble is not without its own problems. In July 2010 the company reported a weak financial outlook. Then-newly appointed CEO William Lynch said the company planned "to redirect a significant portion of its financial resources toward investments in technology, sales and marketing." The bookseller's finances have rebounded since last summer and its stock has risen more than five dollars a share.
While there is no question about the popularity of e-books, one thing is still unclear – can companies make a profit from e-book sales? Amazon actually loses money on each e-book sale. Amazon typically pays the publisher around $13 per e-book and then turns around and sells the e-book to a customer for about $10 – a three dollar loss per e-book sold. However the company does make a profit on sales of the Kindle.
Amazon does not appear to be going away any time soon, Barnes & Noble seems financially stable for the moment, as for Borders, only time will tell if the bookseller can recover and remain in business.
Reach Christine Detz here