Science
Astronaut Mark Kelly Resumes Training for Endeavour STS-134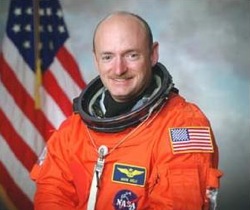 NASA astronaut Mark Kelly will resume training as commander of space shuttle Endeavour's STS-134 mission next week, the agency said in a press conference Friday. Kelly has been on a personal leave since Jan. 8 to care for his wife, Rep. Gabrielle Giffords (D-AZ), who was critically wounded in a Tucson, Ariz., shooting.
Training will begin for Kelly on Monday, Feb.7.
Kelly said he originally thought Giffords would be in the intensive care unit in Tucson for months, but she improved so much that the decision to rejoin the mission became easier over time.
"I obviously weighed time that I could spend with her with what I think is in the best interest of NASA and my crew," he said. "I know her very well and she would be very comfortable with the decision that I made."
Details were not given about Giffords' condition, but Kelly said "she improves every day" and rehab doctors "think she's going to make a really good recovery." The congresswoman was shot in the head on Jan. 8 at an outdoors community event.
Kelly has been at Giffords' bedside at a hospital in Houston where she was recently transferred. A long-time supporter of NASA, Giffords has been tentatively elected Ranking Member of the Subcommittee on Space and Aeronautics for the 112th Congress. Rep. Jerry Costello (D-IL) will serve as Acting Ranking Member during her absence.
Endeavour's STS-134 mission is targeted for launch April 19 from the Kennedy Space Center in Florida. The 14-day mission to the International Space Station will deliver spare parts and the Alpha Magnetic Spectrometer-- an experiment module to search for antimatter and dark matter.
The rest of the crew includes Greg H. Johnson, Michael Fincke, Roberto Vittori, Andrew Feustel and Greg Chamitoff. Rick Sturckow, the backup commander for the mission, will resume his role as the deputy chief of the Astronaut Office.
This is Endeavour's last scheduled flight and possibly the shuttle program's second-to-last mission. Atlantis is scheduled to fly the final mission in June, but funding remains in question.