USC Sports
USC President Upbeat After NCAA Appeal Hearing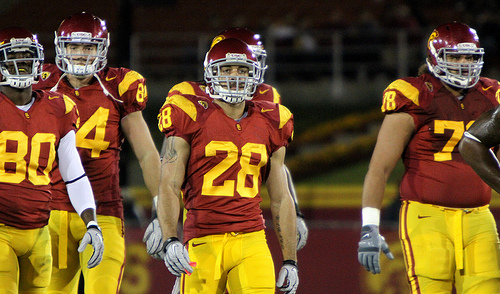 USC officials made their case before the NCAA Infractions Appeals Committee Saturday in a hearing that
went well
, according to university president Max Nikias.
"All I will say is that I want to thank the NCAA for giving us an opportunity before the appeals committee to have a good and fair hearing," Nikias said. "Now we have to wait for the ruling."
Nikias was joined in Indianapolis by Athletic Director Pat Haden and four other university representatives for the hearing, which lasted four hours.
USC is appealing the NCAA's decision to take away 30 scholarships from the program and impose a two-year bowl ban in the wake of findings that former Trojans Reggie Bush and O.J. Mayo received improper benefits.
The school was found to lack institutional control, according to the NCAA.
Trojan officials are asking the committee to reduce the number of lost scholarships to 15 and the bowl ban to one year, which the team would already have served if the appeal is successful. Similar appeals have fallen on deaf ears recently. Out of 11 appeals made since 2008, when the NCAA instituted a rule change requiring schools to prove "abuse of discretion" in cases such as the one against USC, only one has been successful.
The committee is scheduled to make its decision on USC's appeal within four to eight weeks.