USC Sports
USC, Kiffin Nearing Second Straight Top 5 Class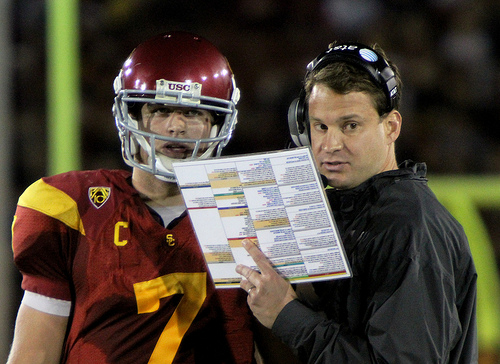 As many followers of the USC football program have become accustomed to, the 2011 recruiting class is loaded with four- and five-star recruits.
It also features its share of role players.
Though there can still be some movement on the recruiting front between now and National Signing Day on Feb. 2, I've asked Lisa Horne of FOXSports.com and Ryan Abraham of USCFootball.com to help me break down this group of recruits.
--
Headlining the class are speedsters De'Anthony Thomas (RB/DB) of Crenshaw High School and George Farmer (WR) of Serra (Gardena) High School.
"We saw both of those guys in San Antonio at the Army All-American Bowl and either could have been considered the fastest player or the overall best player on the East or West squads." Abraham said.
Both players have the ability to come in and make an immediate impact.
--
Thomas (a.k.a. "The Black Mamba"), is easily the most versatile athlete in the class. He is dangerous with the ball in his hands on offense and has the ability to lock guys up in coverage on defense.
Farmer is a big target at wide receiver and recent history at USC shows a love affair with players cut from that mold. The only knock on Farmer is his tendency to lose concentration and drop balls occasionally, but he is still expected to compete for playing time from Day 1.
--
Kicker Andre Heidari of Bakersfield's Stockdale High School is the player both Horne and Abraham point out should start right away. He's regarded as the player who will have the next greatest impact in this year's class.
"The Trojans' kicking game last year cost them a few games and the lack of confidence in the kicking game forced Lane Kiffin to try to convert fourth downs when a field goal should have been the better option, but wasn't," Horne said. "Heidari is ranked as the second-best kicker in the country, so this addition will take some pressure off the offense and improve the 83 percent red zone scoring from last year."
--
The Trojans have huge needs on both the offensive and defensive lines, and at linebacker. They have done good job addressing those needs, though.
JUCO transfer Jeremy Galten (OL) from the College of San Mateo is a big, 6-foot-5, 295-pounder, with the athleticism to play either tackle or guard.
He's also a player Horne tabs as a sleeper in this class, "He's already enrolled at USC and I see a huge upswing in the running game productivity due to him at either position."
Another major pickup for Kiffin is top offensive guard Cyrus Hobbi of Saguaro High School in Scottsdale, AZ, a program known for turning out Division 1 linemen.
"He was a guy the Trojans were in on late, but they closed fast and he announced today he will be coming to USC," Abraham said.
--
J.R. Tavai (DT/FB) of Mira Costa High School and Charles Burks (DE) of Edison High School in Huntington Beach are less heralded players coming in, but they're still capable of making an impact
Though these guys don't come in with the accolades we typically saw in the Pete Carroll era, as Abraham points out, they are players Kiffin very much needed.
"You can't just fill your team with the elite of the elite, you need some role players as well," he said. "You need guys like a Tavai or Burks in this class. Kids that don't have the high ranking, but love to play football, love USC and will work their tails off when they get on campus."
--
Max Wittek (QB) of Mater Dei High School (a quarterback from Mater Dei, sound familiar?) and Cody Kessler of Bakersfield Centennial are the (seemingly) obligatory All-American quarterbacks in this class.
Both are worthy of their hype but will wait their turns patiently behind 2011 Heisman candidate Matt Barkley.
--
Of course at this point, with the exception of mid-year signees, these are merely verbal commitments. So who should we keep a close eye on as signing day nears?
"It's so hard to predict who the Trojans may lose, but the bottom line is that USC has three middle linebackers (Anthony Sarao, Kent Turene and Dallas Kelley) in this class and sometimes too much of a good thing gets thinned out quickly," Horne said. "Keep your eye on the linebackers. It has rumored as of late that Turene, who's from Florida, has been wavering on his commitment.
Abraham echos Horne's sentiment.
"We have heard things on both sides of Turene. Right now we feel he is leaning towards signing with USC after being a long-time commit, but his story is certainly one to watch," he said.
--
USC has a few targets still on the board as well.
The Trojans host the final round of recruits this weekend and many experts expect Kiffin to close strong in typical Trojan fashion. Sanctions, or no sanctions, this coaching staff is proving no matter what obstacles the NCAA puts in its way.
'SC is still 'SC, and it's still the premiere destination, academically and athletically, in the country.
To reach Scott Enyeart, click here. Follow him on Twitter, @scottenyeart.