Los Angeles and Region
Strained Budgets Threaten LA's Anti-Graffiti Efforts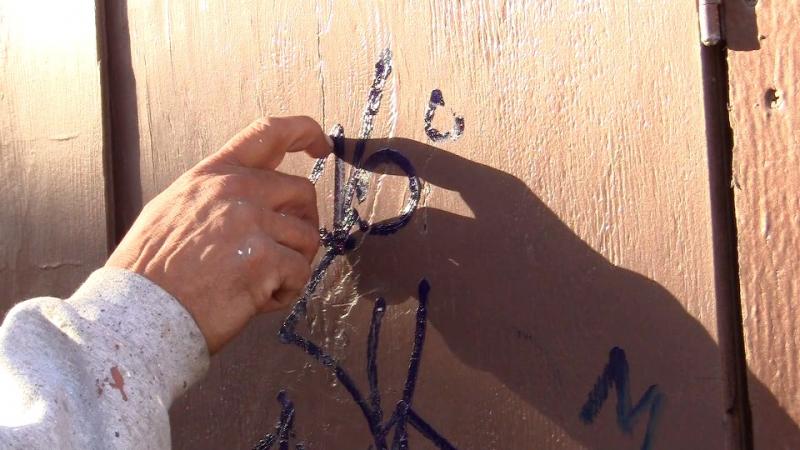 At 6 AM, Eulogio Muñoz fires up his white van and takes his mobile cleanup unit to the streets. They are mostly calm at this hour.
Using an arsenal of paint rollers, sandblasters and chemical solvents, Muñoz works methodically through his daily route of graffiti removal. At each stop he assesses the best way to erase or cover up the spray paint scrawled across walls, garage doors, and traffic signs. Then he sets out to make it seem like it was never there.
"I've covered this one so many times before," Muñoz said on a recent trip, before painting over some graffiti outside a Smart & Final in Culver City. "It will probably be back tomorrow. Maybe later today."
A close look at many of the buildings in LA reveals a patchwork series of almost-matching paint jobs and walls that are covered then covered again. These are the scars of the city's long, costly battle against graffiti.
In the past fiscal year, the city spent $7.1 million on graffiti removal, paying for people like Muñoz. He works for Pacific Graffiti Solutions, one of the 30 non-profits that patrol all corners of the city. They are contracted out through the Office of Community Beautification—a department that, under various names, has sought to strike out graffiti in LA for decades.
But a multimillion dollar budget crisis, at the state and city level, has been slashing programs across the board. Although nothing official has been given out yet, the agency and all its extensions are nervously waiting for the axe to fall. Late last week, Mayor Antonio Villaraigosa's top financial advisor recommended cutting anti-graffiti spending in half.
"[The city] has already asked me to put together a proposal of what I could do with less," said Paul Racs, the agency's director. He will get a concrete answer later this year when the mayor puts together a new budget proposal.
The problem with scaling back graffiti removal is that it would mean losing a step in a war of attrition, say experts. In most cases, the intention of graffiti is to be seen. Whether it is gangs marking out territory or taggers trying to prove their reach, the longer their marks stay up, the more power it implies.
Fighting it, then, requires the quickest possible removal.
"If [the graffiti] is gone the next day, a tagger is going to think, 'well I'm not going to tag here because it was gone too fast,'" said Yvette Neal, the director of Pacific Graffiti Solutions.
Once graffiti is reported, either by residents and business owners using the city's 311 call-in service or by city vehicles on patrol, officials aim to have it cleaned up within 24 to 48 hours. That's impossible with less funding, says Racs. He estimates that even cutting back on removal by 10 percent would cause a large rise in graffiti.
Cleaners also need liability insurance—a direct result of working in a field that has close ties to anti-gang efforts. Crews try to get in and out of the most dangerous areas as quietly as possible, hence the early morning start times.
"Many of the gang members have seen me on the Westside," Muñoz said. "At first I was afraid, but now I don't think about it as much."
It's difficult to say if the city has been successful in the fight against taggers. This past fiscal year saw an increase in the number of graffiti reports.
Cleanup crews painted over 32.7 million square feet of defaced walls. However, that could be the result of a better reporting system rather than an increase in activity.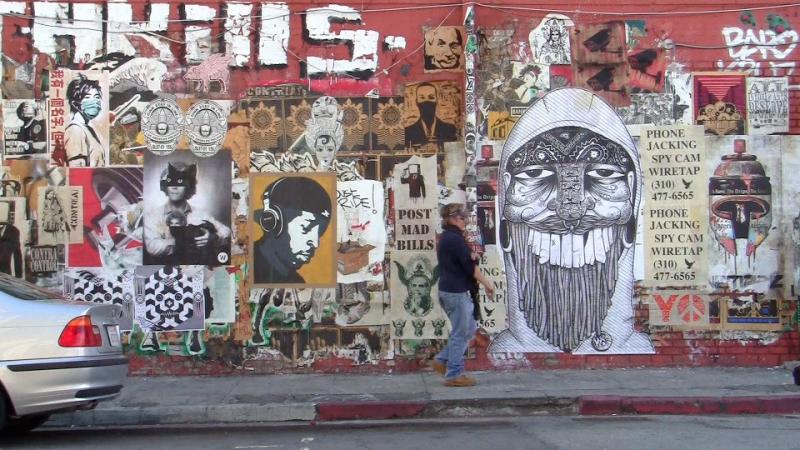 Raffi Madatyan who runs an automobile alignment shop near Pico and Hauser, never had to deal with graffiti until recently.
"I've been working here for 18 years and never had anything," said Madatyan. On a recent morning, however, he discovered there was a dark orange tag splashed across the sea green exterior of his shop. "Now there is something every day. …I blame the schools. They don't teach the kids well enough."
The city had a graffiti education program once, where officials would go into schools and explain the harm and penalties of vandalism. It was cut last year--itself a casualty of a reduced budget.
The prevailing philosophy that justifies spending money on graffiti removal is the "broken window theory." The theory essentially holds that small incidents left untouched will lead a neighborhood towards future, more serious or violent crimes.
Former Mayor Rudy Giuliani famously used this theory for his series of police crackdowns during the early 90s as he tried to shape up a crime-ridden New York City. The city's police chief at the time was William J. Bratton, who brought the same zero-tolerance mindset west when he became head of the Los Angeles Police Department in 2002. Crime in LA, as in New York, went down throughout Bratton's tenure.
Critics point out that other cities that have followed the broken window theory have not had nearly the same success. Even Racs admits that crime in LA, which is at its lowest point in decades, is probably not a direct result of the aggressive stance on graffiti. But the departmental emphasis on prevention remains strong.
At the Los Angeles Police Department's central division, which covers the majority of downtown, officials recently introduced a graffiti task force. Officers patrol the streets specifically on the lookout for people in the act and serve search warrants to capture repeat offenders.
"We make sure that it's an important detail," said Capt. Todd Chamberlain, commanding officer of the central division. "Even if there are budget cuts, arresting people who vandalize is absolutely a priority."
Private businesses might pick up some of the slack if the city has to cut back on its graffiti removal. Downtown LA may also provide the solution to fallout from budget cuts. Many companies like those in downtown's Historic District have chosen to participate in LA's Business Improvement District program. The members in these groups agree to a voluntary tax that funds a variety of services, including graffiti removal.
Rather than using non-profits for cleanup, the group hires a private contractor to keep up appearances, though— they do still borrow the paint and solvent from the city. For many businesses already squeezed during these tough economic times, it may be hard to imagine another tax.
But Chamberlain maintains that it works, and proudly points out that downtown has some of the lowest levels of graffiti in the city.
"[Our success] is a combination between what the city already does and businesses who put in their own money to cover what the city cannot do.," he said.
Reach Tom Dotan here