National
Sarah Palin Hints At 2012 Presidential Bid...Again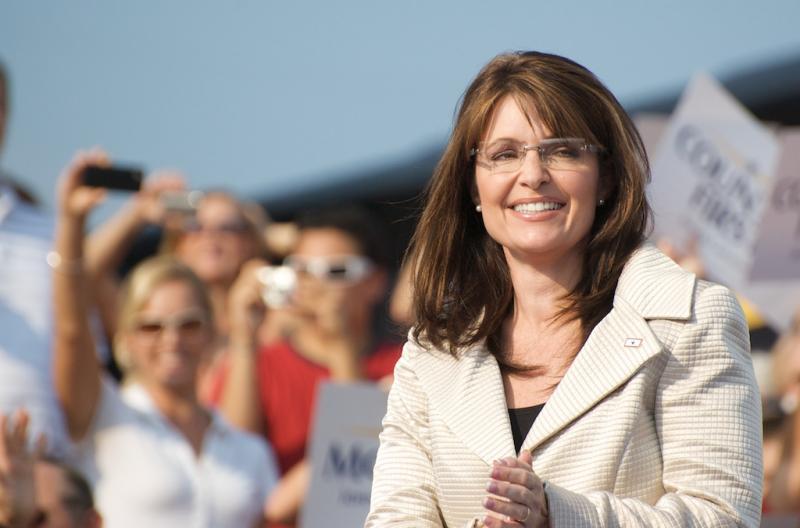 Never one to count herself out, Sarah Palin
hinted
at a 2012 presidential bid Saturday night when speaking at the Safari Club International's annual convention.
The Daily Beast reports:
After some boilerplate comments about how "local government is the most responsive and responsible to the will of the people" she paused for a moment and stared out across the ballroom. And then came this: "that's why I think every president should have a run at gaining experience by being a councilmember, a mayor, a governor, a VP candidate, a commercial fisherman, a hockey mom." As the attendees cheered, Palin made a halfhearted attempt to quiet them down. "No, I'm kidding," she said, beaming. "I try to be funny some times. I'm kidding."
This is not the first time Palin has expressed interest in the presidency.
On the first stop of her nationwide 30-city Tea Party Express tour in October, Palin said to a crowd in Reno, Nev., "Mr. Obama, you're next, because now we can see 2012 from our house."
Attemping to garner support for Tea Party candidates before the midterm elections, Palin said common sense is an "endangered species" in Washington, D.C., and that they couldn't "party like it's 1773" until conservatives had regained control of Washington.
But since then public--and political--opinion on Palin has shifted.
A CNN/Opinion Research Corporation survey released Jan. 19 shows 56 percent of all Americans have an unfavorable view of Sarah Palin--up seven points from just before the November midterm elections. This 56 percent is a record high in disapproval ratings for the former Alaska governor and 2008 vice presidential candidate.
The potential 2012 GOP presidential candidate has spent a lot of time in the public eye recently in light of a Jan. 8 shooting rampage in Tucson, Ariz. that left six dead and 13 wounded including Rep. Gabrielle Giffords (D-AZ), who was shot in the head at the "Congress on Your Corner" event she was hosting at a local Safeway. The alleged gunman, Jared Lee Loughner, was indicted by a federal grand jury on Wednesday.
"Following the shootings critics suggested Palin's at-times charged political rhetoric and use of a graphic featuring crosshairs may have contributed to the shooter's motivations," CNN reports. "The graphic was part of a website that Palin put up last year, during the divisive debate over health care reform, to highlight 20 congressional districts won by Sen. John McCain in the 2008 presidential election, where Democratic representatives were voting in favor of the legislation."
Though 38 percent of people polled said they have a favorable view of Palin, this figure is down two points from October.
Palin also appears to have lost fans from her independent and female bases: among independents, her unfavorable rating is up 14 points, among women, it's up 10 points.
CNN Polling Director Keating Holland
said
the hubbub surrounding Palin's website probably didn't directly affect public opinion but may have turned people off.
"Poll results released earlier this week show that most Americans do not blame her website for the shootings in Arizona,"
he said
. "But women and independents - two groups that tend to prefer civility and bipartisanship - may have disliked her combative reaction to suggestions that the website was involved."
And the increased prominence of another female--Rep. Michele Bachmann of Minnesota--may also be hurting Palin's chances.
U.S. News and World Report's Jamie Stiehm
writes
, "January brought—or wrought—a new narrative for the radical right: let's call it the Rise of Michele Bachmann and the Fall of Sarah Palin...The two most visible Republican women may have changed power places at the Tea Party table. The transformation started with the Arizona shootings aftermath (for Palin) and completed with an unofficial State of the Union response (for Bachmann.) Momentum shifted over the frozen northern country's skies, the winds blowing across Alaska to Minnesota to Washington."
A December Time magazine cover story on Palin explores whether the Mama Grizzly wants to be president or just a celebrity:
A presidential candidate used to need a central headquarters and satellite offices in all the early primary states; now all a contender like Palin needs is a cable modem. Working largely from her lakeside house in Wasilla, Alaska, Palin raised millions of dollars, produced three viral Internet videos and endorsed more than seven dozen Republican candidates (most of whom prevailed).
At the same time, however, she worked more on her profile than on her platform, releasing her second best-selling book in two years and starring in her own cable television series and in the process putting as much as $13 million in the bank. Palin has been particularly adroit at keeping her name front and center on both stages, whether jabbing Washington Republicans for their pork-barrel spending or turning up in Hollywood to watch her daughter Bristol advance to the final round of Dancing with the Stars.
In the Washington Post, Jonathan Bernstein explores if Palin's public prominence is doing her a disservice, "Yes, she did give at least a couple of Serious Policy Speeches, but I don't get the sense that they got any traction at all, not with all of the tweets and the reality shows and the books stuff with platitudes. Her fans, of course, never needed convincing, but for the rest -- and, here, I'm really focused on Republicans -- is there anyone who wrote her off as a lightweight who is now giving her a new look because of her speech on the Fed? I very much doubt it."
Several high profile Republicans including Karl Rove and Ann Coulter have been outspoken in their disapproval or doubt of Palin's ability to represent the party in the White House.
Former Bush administration official Peter Wehner said, "Virtually every time Ms. Palin speaks out, she reinforces some of the worst impressions or deepest concerns many of us have about her. If she were to become the voice and representative of the GOP and the modern conservatism movement, both would suffer a massive rejection."
To reach editor-in-chief Callie Schweitzer, click here.
Sign up for Neon Tommy's weekly e-mail newsletter.