National
Obama Takes Up Oil Subsidies Fight…Again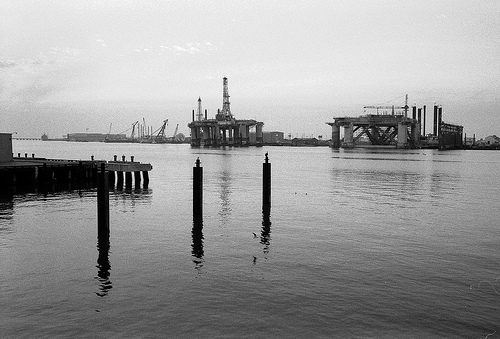 President Barack Obama has once again set his target on eliminating tax-breaks and federal subsidies for oil and gas companies - a task he has repeatedly tried to tackle, and a task whose successful completion has repeatedly eluded his efforts.
In his State of the Union address Tuesday, Obama called for Congress to end the US' $4 billion relationship with oil and gas and redirect the funds to clean energy. He proposed for the US to generate 80 percent of its electricity from renewable sources by 2035 and cited research efforts at the California Institute of Technology and Oak Ridge National Laboratory as signs of progress.
"We need to get behind this innovation," he said, in reference to the new developments in clean technology, "and to help pay for it, I'm asking Congress to eliminate the billions in taxpayer dollars we currently give to oil companies."
Obama's calls to end subsidies are not new. In Feb. 2009, he tried to eliminate $31.5 billion over 10 years for oil and gas, but to no result. He tried again cutting $36.5 billion in Feb. 2010 and drew criticism from the oil and gas industry claiming that the cuts would hurt jobs, discourage domestic drilling and benefit foreign oil companies. Specifics of his plan for this year will come when he releases his next budget proposal in mid-February.
During the debate about climate change legislation in the summer of 2010, both parties worked to shoot down an amendment proposed by Sen. Bernie Sanders (I-VT) that would have trimmed $35 billion in funds for oil and gas.
Now, with an increased Republican presence in Congress, Obama once again presses the issue.
"I don't know if you've noticed, but they [the oil companies] are doing just fine on their own," he remarked. "So instead of subsidizing yesterday's energy, let's invest in tomorrow's."
Obama's calls are already being criticized by the oil and gas industry. In particular, the American Petroleum Institute (API) has stated their dissatisfaction with Obama's proposal. They claim that by ending oil subsidies, The White House subverts another one of its expressed goals – job creation:
"It's unfortunate that the administration seems poised to stifle what remains one of America's strongest job creating industries," API President Jack Gerard said in a statement.
Others have come to his defense.
"Now is not the time for these big polluters and their allies in Congress to take the nation backward to darker, dirtier days," wrote Natural Resources Defense Council (NRDC) President Frances Beinecke on the organization's website. "Now is the time to move ahead with cleaner energy solutions that protect our families and generate jobs for American workers."
According to The New York Times in July 2010, oil is one of the most heavily subsidized businesses in the US. Subsidies and tax breaks for oil and gas companies total up to $4 billion a year, and small-to-midsize oil companies often enjoy an increase in returns after taxes are filed.
Reach reporter Aaron Liu here.