Opinion
MSNBC Firing Of Olbermann Poorly Timed, Ill-Advised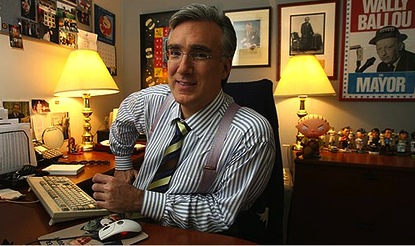 Keith Theodore Olbermann perpetually projects the look of a man thinking "I'm better than this."
He is, from the exterior, the perfect newscaster.
His look is sleek and refined. He is a good-looking man with bushy eyebrows, sharp calculating eyes and slim reading glasses, the type an architect might wear.
His hair is combed-over to perfection. Gray streaks speak of wisdom. Then, there's the voice. It is smooth and commanding. Even when he is adlibbing Olbermann sounds like he is reading from a great book. He sprinkles in Ivy-League language and esoteric references — as if always to remind you, "I'm brilliant!"
He's got the perfect radio voice. And the perfect TV look. Confident, eloquent and suave. A producer's dream.
Keith Olbermann got fired again Jan. 21. He got fired, that's for sure; forget what you heard.
The sun rose in the east, the grass was green, the sky was blue and Keith Olbermann got fired. For all his virtues, he's been fired more than Billy Martin.
It was, in his own words, the end of his 16th contract in the biz. Corporate people have told us he "had a sudden departure," "his contract ended," or, my favorite, "he made an unexpected exit."
No, he got canned — and it's an abomination the way it happened. It's not the fact he got sacked. That, as always, he well-deserved. Turns out, if you read The New York Times, it was as unexpected as Charlie Sheen partying with porn stars.
"Olbermann's MSNBC Exit Was Weeks in the Making," read the headline, which quoted anonymous MSNBC executives.
Many execs wanted to fire him months ago after revelations he donated to three Democratic candidates (and even had one on his show the day he donated!)
So why the delay? The Times explains further. On Thursday, one day before the "sudden" split, "NBC's news division staged an elaborate presentation for advertisers, seeking to sell commercial time in NBC's news programs over the next year."
It was calculated, pathetic and deceiving.
No one cares about the Clippers without Blake Griffin. No one wants to see Caddyshack II without Rodney Dangerfield. Or Queen without Freddie Mercury.
And no one wants to watch MSNBC in primetime without Keith Olbermann.
Olbermann realized this long ago.
No one on this second-rate ball of dust is in love with Keith Olbermann more than Keith Olbermann. The world doesn't revolve around him, it bows at his feet.
It's been a love affair since birth. His life-partner came early. When asked by CSPAN of when he discovered his ego (and you can't make this up), he said, "I can't remember a time when I did not know. [Since] being able to spell the word."
Olbermann perfectly exemplifies the old saying "familiarity breeds contempt." It's only a matter of time, not unlike the effect Terrell Owens or Allen Iverson has on an organization.
He is much too in love with himself to have a faithful relationship with any cable outlet for all that long.
No, it was about time he was fired. And he's much too good-looking, smooth sounding and brilliant not to find another job — his ego will keep him company in the meantime.
No, it was about the way it was done, and the delay.
When he made those donations, and compromised all journalistic integrity, the execs wanted to fire him and they should have pulled the plug.
Not now.
Not out of nowhere without explanation — other than the obligatory "contract" line. Not just as Comcast becomes owner of NBC Universal. And not just after a huge push for advertisers.
The whole thing stinks. It's corporate media at its worst.
When Olbermann committed a fireable offense, he should have been fired.
Instead, it was a circus. His adoring public rallied at his side, and the network caved after just 48 hours. He was back on the air, some sort of martyr for the "new ethics of modern journalism."
Nothing, as far as we know, has changed since then.
Only MSNBC has a lot more money locked down, advertisers have a lot more to worry about and we have reports from The New York Times that the whole thing was conceived weeks, if not months, ago.
This week it was reported that MSNBC's ratings have already started to fall.
And that alone is enough to keep Olbermann smirking.