International
Julian Assange Extradition Hearing Date Set For Feb. 7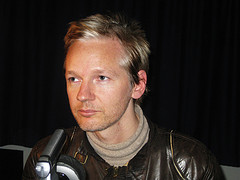 WikiLeaks leader Julian Assange will fight extradition to Sweden at hearings on Feb. 7 and 8,
claiming that transfer there because
of a sex-related investigation could eventually cause him to end up in U.S. custody at Guantanamo Bay prison.
Assange appeared in a procedural hearing on Tuesday morning in Belmarsh, where his lawyers filed some documents outlining his defense to an extradition. Court documents also revealed the identities of the two women who allege that Assange raped them in Sweden. Assange is wanted for questioning by Swedish authorities because of those sexual assault allegations.
"Indeed if Mr. Assange were rendered to the U.S.A. without assurances that the death penalty would not be carried out, there is a real risk that he could be made subject to the death penalty," his lawyers said in a 35-page court document.
Assange was briefly held in a U.K. prison last month after surrendering on an international warrant and was made free on $370,000 bail that was put up by several high-profile celebrities nine days later.
The 39 year-old Australian has vowed to fight his removal to Sweden and claims that he is being set up for eventual espionage prosecution in the U.S. He denies he violated any of Sweden's stringent sexual assault laws.
The allegations came out shortly after WikiLeaks released about 200,000 secret U.S. diplomatic cables. About 2,000 of the cables are currently available online.
This latest court appearance takes place a week after it was revealed that the U.S. government issued a subpoena demanding that Twitter turn over personal data on some key Assange associates and supporters. The federal subpoena has set off a diplomatic row as one of the targets of the investigation is a member of the Icelandic parliament.
The Icelandic MP under federal subpoena, Birgitta Jónsdóttir, has hired an attorney and she is now being defended by the San Francisco-based Electronic Frontier Foundation.
"We're looking at options and various things we can do to help our client," EFF legal director Cindy Cohn said Monday. "She's disturbed that her information is being sought."
Legal observers speculate that Assange's extradition case could drag on for months as British courts are hesitant to summarily deport defendants.