International
Haiti Quake A Year Later: Still Waiting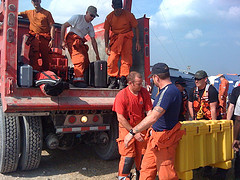 It's been exactly a year since a 7.0 quake rumbled through Haiti, killing more than 200,000 people and leaving more than 1.5 million homeless.
Haitians, many dressed in white in mourning, honoured victims of the devastating 2010 earthquake on Wednesday in a sombre anniversary clouded by pessimism over slow reconstruction and political uncertainty.

Thousands took part in memorial services, including one at the ruins of the National Cathedral in the wrecked capital Port-au-Prince attended by the Papal envoy to Haiti, other religious leaders, government officials and foreign dignitaries.Many mourners stretched out their arms, calling out aloud the names of dead loved ones and imploring God's help.
Though a wave of solidarity and pledges of billions in reconstruction came in the wake of the disaster, reports say that most Haitians are still wondering when they will see substantial relief and recovery:
"I hear about aid on TV but us in Champs Mars, we've never seen it. We have no way to get out," said 55-year-old Ginelle Pierre Louis.

"The diplomats pass through in the air, in helicopters, but they never come through here on the ground," said Hyacinthe Mintha, 56, a resident of Champs Mars, which overlooks the heavily damaged presidential palace.
Haiti was already one of the poorest countries in the world when the quake struck and reconstruction efforts were further complicated by a cholera outbreak last year that too nearly 4,000 lives.
An estimated 180,000 Haitians are still living in makeshift camps in unhealthy and unstable conditions.
Political deadlock since last Fall's elections have also snarled plans for recovery and added to the general instability.
"[Bill] Clinton, who co-chairs the Interim Haiti Reconstruction Commission with Haiti's Prime Minister Jean-Max Bellerive, has faced criticism for painfully slow progress in relief and rebuilding efforts so far.
He acknowledges disappointment with the commission's work. "Nobody's been more frustrated than I am that we haven't done more," he told reporters on Tuesday.