National
Gun Sales Spiking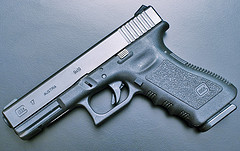 Gun sales are spiking nationally, especially in Arizona, in the wake of the weekend shooting of Rep. Gabrielle Giffords,
reports Politico
.
Ohio also saw a similar spike of 65 percent on Monday. Gun sales were up 38 percent in Illinois, 33 percent in New York and 16 percent in Florida.
Stats provided by the FBI reveal that gun sales jumped a whopping 60 percent in Arizona on Monday. Nationwide, sales were up 5 percent over a year ago. A similar jump in weapons sales was experienced in the immediate aftermath of the 2007 Virginia Tech massacre and also on the eve of Y2K.
The Vancouver Sun reports a staggering 500 percent increase in the sale of high-capacity ammo clips made by Glock, manufacturer of the weapon apparently used in Saturday's Tucson massacre:
"Total orders are up 200 per cent, but the quantity of magazines — high-capacity magazines in particular — have risen upwards of 400 to 500 per cent in the last two days," said Steve Zacher, operations manager at the Mesa, Arizona, based gun shop, which sells products in-store and online. The reason for that would be that when high-publicity incidents occur and there's talk of potential legislation or restriction on capacity of magazines, a certain element . . . feel compelled to reinventory themselves in the event that particular items are banned or restricted from future sales."
Other sources report that the best-selling gun in the last few days is the Glock 19, the model used by the alleged attempted assassin on Saturday.
A few lone Democrats are pushing for some very limited tightening of gun control laws but their proposals appear to be D.O.A.