Los Angeles and Region
Dr. Mitch Katz Takes Over L.A. Health Services
After 13 years as public health director of San Francisco, Dr. Mitch Katz has taken over one of the most difficult positions in L.A. – that of Director of Health Services. The department operates on a $3.6 billion budget, controls four hospitals, works with hundreds of independent clinics and deals with a Board of Supervisors known for interference. As such, the position has the unenviable reputation of being – as one reporter put it – a "wood chipper" rather than a revolving door. L.A. hasn't had a permanent health chief in two years.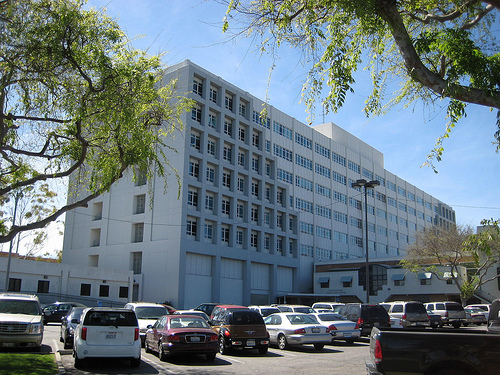 Katz's job will likely become even more difficult if and when Gov. Jerry Brown's proposed budget cuts, which include $1.7 billion in slashes to Medi-Cal, go into effect. Add to the difficulties the upcoming opening of a major hospital in South L.A., which has gone without a complete medical center since 2007 when King/Drew Hospital was shut down due to numerous failures.
After two weeks on the job, Katz spoke with Neon Tommy about these issues and his vision for L.A.'s massive health system.
Neon Tommy: How will the recently proposed state budget cuts to health services affect how you do your job?
Dr. Mitch Katz: It's always hard when resources are less, but I certainly understand that there is a state budget crisis and that the state has to figure out how to balance its budget. My focus is much more on how to ensure that we are doing the best job we can with the amount of money that is available. I think there a lot of opportunities to do better. There are times when people are in the hospital for an illness that could have been prevented or still in the hospital when they're not acutely ill because there are not enough alternatives to hospitalization being developed. So my focus is not so much on the specific dollar. My focus is to make sure that the money we have is spent in the best possible way.
The total budget of the Health Services Department is $3.6 billion. This cut that we're talking about on the Medicaid rates, if approved by the courts, is $10 million. If you do your best job to predict the effect of the other cuts, it's another $10 million. But $20 million, while it's a huge number, is actually not a very large percentage of a budget of $3.6 billion. So I'm trying not to focus on the exact size of our revenue, but on making sure that that revenue is well-spent.
NT: The Los Angeles health services system has a reputation for being bureaucratic and just plain vast. What kinds of challenges does that pose?
MK: Well, 10 workdays into the job and still learning about the department, clearly there is tremendous opportunity to do better on a wide variety of fronts. We have a lot of creative people and it's my job to orchestrate a transformation that will deliver better care. And it will be at a lower cost in part because traditionally the department has focused on hospital-based services, which is the most expensive setting. We want to use hospital-based services only when we cannot care for the person in an outpatient setting. So my major task is to develop a robust ambulatory system that will keep people out of the hospital, and I think there are tremendous savings available in doing that.
NT: Can you elaborate on how that would work?
MK: Right now, because there is not within DHS a strong ambulatory system, people may go to the emergency room because they perceive that it's their only available choice. You're sending people to the most expensive site possible and also to the wrong place - the one that's not giving them ongoing care. If you get them involved with a primary care doctor so they won't need to go the emergency room, they won't. So I think that there is tremendous opportunity to give better care at a lower cost.
NT: One of the biggest issues is the reopening of King-Drew Hospital, which was closed down because of mistakes in caring for patients. What are your plans moving forward with the reopening?
MK: MLK Hospital is serving a part of town that has tremendous unmet needs, and I think that the opening of a new hospital and ambulatory center – so it's not just a hospital – will greatly improve care in that part of the city. Right now people are still getting hospitalized but they're having to go across town to other facilities. So it's not as if when you close a hospital you have fewer people getting hospitalized. They just go across town, and it isn't efficient and it moves away from the idea that want we want is people going to their primary care doctor and people getting care that will keep them from having to go to the hospital.
I think one of the challenges will be getting people to see it as a new hospital. Supervisor Mark Ridley-Thomas has been very good at saying this is not a reopening of the old hospital, this is an opening of a new hospital, the opening of a new era. Clearly there were mistakes made in the past, and I don't want to dwell on that, but I don't believe those kinds of errors are going to occur under my watch. I'm very focused on what is best for patients.
NT: After serving for 13 years in San Francisco, what's something you developed during that tenure that could be put in place here?
MK: The biggest thing that I think would work here that doesn't exist is that San Francisco has many alternatives to hospitalization. Not just skilled nursing facilities, which is what people usually think of, but we were also running sobering centers so that people who were severely inebriated wouldn't be brought to the emergency department. We opened an acute diversion unit for people who had psychiatric problems for people to be cared for in the community rather than going to a hospital.
In 13 years we went from having no supportive housing for medically complex patients to having 1,200 units of supportive housing. And what's interesting to me about those alternatives is that they're less expensive. You can house a medically complex patient in supportive housing for $1,000 dollars a month. A single day in the hospital runs between $1,000 and 3,000 a day, depending on the person's severity.
NT: This job is notorious for people going in and out. The last health services director quit quite suddenly. Why did you turn it down two years ago and why did you decide to take it now?
MK: I turned it down a couple of years ago because I had things to finish in San Francisco and I wouldn't have abandoned those things. What I see is tremendous opportunity to do good. Los Angeles is the second largest safety net system in the country. It has a public reputation for having very good hospitals but otherwise having a very weak health services system. And to me, what I care about is getting up in the morning and making sure that low income people have access high quality care, and I imagined what I could do if I continued in San Francisco, and I felt like I could do more for the populations I care most about by coming here.