USC Sports
Details Don't Add Up In Stafon Johnson Lawsuit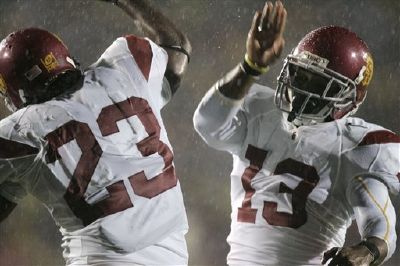 Former USC running back Stafon Johnson got a lot out of his time at USC.
Most notably, a free education and a chance to play for an NFL-pipeline football program.
Now he's after more.
Some 16 months after a horrific weight-lifting injury that resulted in numerous injuries to his neck and throat, Johnson is suing his former school and former assistant strength and conditioning coach, Jamie Yanchar, for damages, citing negligence.
But it's not the actual lawsuit that bothers me; it's some of the details.
[Editor's note: You can read the lawsuit in its entirety here.]
For starters, Johnson claims that Yanchar, who was "spotting" the USC running back at the bench press, was distracted and that his attention was directed toward "one or more other members of the football team" not engaging in weight-lifting activities, subsequently leading him to knock the bar from Johnson's hands.
This is the first time that Johnson has told his side of the story and the first time we've heard that the bar was knocked out of his hands as opposed to it slipping.
Not only did it take him over a year to come out with this but the accident had been considered just that all along, an accident.
Former head coach Pete Carroll even told ESPN's Shelley Smith in December 2009 that he was told that Johnson flexed his hand and the bar fell on his throat.
Then there are the damages.
Johnson is seeking an undisclosed amount of money, exceeding $25,000, for, most notably, special damages, including loss of earnings and loss of earning capacity.
There is no question that his injury and the time missed on the football field in the 2009 season hurt Johnson's draft stock.
Even so, he was signed as an undrafted free agent by the Tennessee Titans following the 2010 NFL Draft.
Unfortunately for Johnson, he dislocated his ankle in the Titans' first preseason game and was placed on injured reserve for the rest of the season.
But you'd be hard pressed to convince me that Johnson went to USC for any reason other than a fast track to playing in the pros.
The fact that he was healthy enough to get an NFL contract tells me that this injury was not and is not preventing him from making a living as a football player.
There is one other small detail in the lawsuit I found very peculiar.
It states that at the time of the accident Johnson was in his senior season and was the starting tailback on the USC football team.
While the former is true, the later is most certainly not.
In fact, Johnson was second on the running back depth chart behind then starter Joe McKnight.
It may only be a small detail, but a falsity nonetheless.
This point, along with the delayed revelation that the bar didn't slip from Johnson's hands but rather was bumped by Yanchar and Johnson's claim that the injury has hurt his earning potential, makes this lawsuit extremely interesting.
It's not clear who will come out on top when the case is settled, but one thing is for sure: Johnson and his attorney are making some pretty tenuous arguments.
When all is said and done, they had better hope these small details pay off in a big way.
To reach Chris Pisar, click here.