Food
Bottega Louie: A Modern Market And Restaurant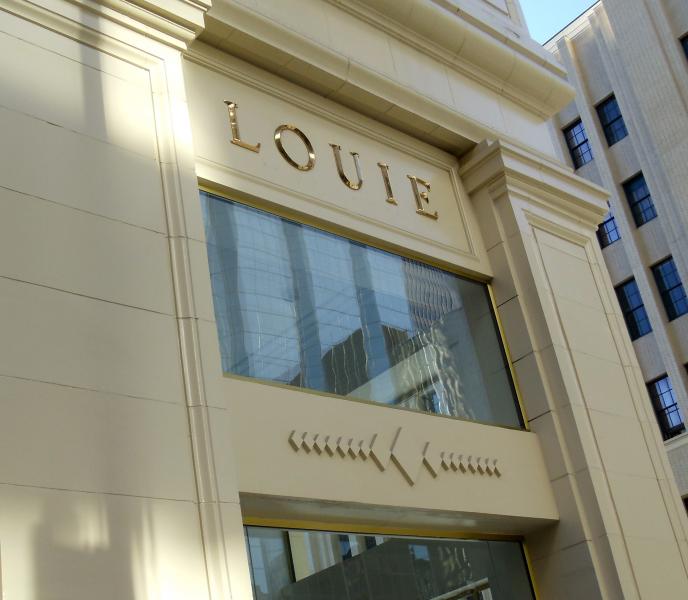 After watching a marathon of "The Hills" and creating a massive list of places to explore in Los Angeles, I realized that this city hosts some amazing eateries. One example is the trendy
Bottega Louie
. Just a few blocks from L.A. Live - at 7th and Grand - this Italian restaurant and market tops lists nationwide.
Since opening in spring of 2007, Bottega Louie has been a perfect setting for families, friends and dates. Rumor has it that celebrities also frequent the elegant location.
With items on the menu including Portabella Fries, Chicken Carcioffi and the famed Chocolate Souflee, it's easy to see why everyone enjoys the Bottega experience. The dissection of the Chicken Carcioffi is as follows: chicken is soaked in white wine which then absorbs the scrumptious and salty flavor of artichokes and capers. This dish is my personal favorite and I order it every time.
Picky taste buds? Simple but delicious salads, pastas, sandwiches and pizzas appeal to those with a craving for the traditional. The menu includes the traditional caesar, basic oven-roasted pizzas - anything from cheese and pepperoni to clams - and pastas that taste as good as grandma's homemade spaghetti.
The bar and market are other options if you don't want to face the demands of getting a table. But note that the bar also gets packed early on the weekends.
However, take the time to stop by on an afternoon for a delectable dessert, sandwich or salad from the market and patisserie. These almost-too-pretty-to-eat desserts make the perfect gift for a special someone.
The market is just inside the doors, and spans case after case. They contain everything from cupcakes and macaroons to fruit tarts, butterscotch custard and mini creme brulees. I love to stop in and satisfy my sweet tooth with Butterscotch Budino. Butterscotch custard, a layer of butterscotch sauce and salted whip cream combine to create the best taste. Although it appears small in size, the taste is large enough.
Planning a night out for a large group? When you make a reservation, be sure to ask about the fixed price menu. For $15-$20 a piece, the table can share a filling array of appetizers, entrees and desserts.
Weekend brunch is also an option. A menu in both the market and the restaurant satisfies those morning needs.
Depending on the meal, expect to pay anywhere from $10-$25. Prices may seem costly, but are totally reasonable for the service, taste and quality.
Eating at Bottega Louie never gets old. This restaurant deserves a top rating across the board.
Reach reporter Alexa here.