MLB
Showtime Presents: 'Frisco Shore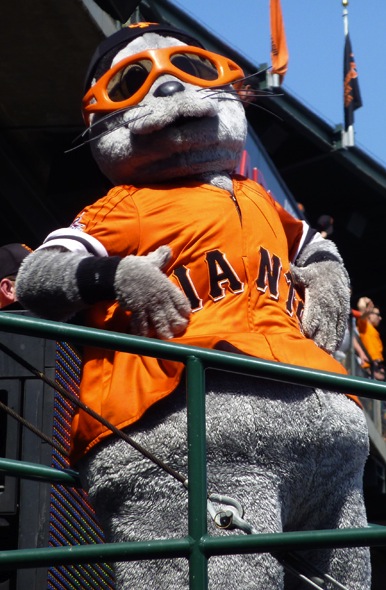 When I heard the San Francisco Giants were going to be featured on a reality show this spring, my heart leaped. Best case scenario, they got Pablo Sandoval on
I Used to be Fat
.
No such luck. It's an original series for Showtime. Cameras will follow the team around in their pursuit of a title defense.
Still, the crossover potential on Showtime is titillating. Who could be a better fit for medieval debauchery on The Tudors than a be-thonged Aubrey Huff? Or Jonathan Sanchez as love interest/fellow schizo on The United States of Tara.
Then there's a new season of Dexter -- call the new villain "The Crossword Killer" as played by Brian Wilson (who's psychopathic anyway). Tracey Ullman will hardly have to break a sweat to pull off Bruce Bochy's drawl, though the prosthetic balloon head could prove tricky.
And I think we all know where Timmy ends up.
My enthusiasm notwithstanding, many of the Giants' faithful are, at best, nonplussed.
Local talk shows are flooded with calls of doom and dismay I've been told. The San Francisco Examiner fears that the team's priorities will shift to makeup instead of pop ups. A columnist for the Santa Rosa Press Democrat is concerned somewhat about the team, but more so about the sanctity of the players' marriages. Why? Well, it's reality TV. So is The Bachelor, and that NEVER works out.
In certain respects, it's hard to blame the critics; the franchise just shook off decades of heartbreaking almost-dom. On championship night, Chicken Little doesn't exactly take the first redeye out of SFO. And the image of AT&T's locker room being turned into "Rock of Love," is, voyeuristically speaking, delightfully trashy.
It's also dead wrong.
At least for the Giants.
This is a team where a star 21-year-old pitcher is from backwoods North Carolina, steeped in "aw-shucks" charm, and married. Their rosy-cheeked Rookie of the Year is hitched too. The closest the Giants have to a lothario is Pat Burrell, who has bad knees and is on the downward side of 30. He does swing an awful lot though.
For all the talk during last years' World Series about the Giants being a group of dirty dozen cutups, they're also a bit…toothsome.
Claiming that a reality show could be a distraction is a more valid concern. In fact, it's probably right. Cameras invading the locker room and producers asking for insight and testimonials are superfluous annoyances for players.
So are things like agents, arbitration and Jose Guillen. All are unfortunate parts of the game, but professional athletes still deal with them. And if these athletes are on the San Francisco Giants, they're going to have to.
As columnists pointed out time and again last October, the 2010 World Series was a great moment for San Francisco and a terrible one for Major League Baseball. Ratings from the opening game were poor and went down from there. Worse, it was mostly a drama-free series — the Giants didn't even have the decency to extend it to six games.
The toilet ratings were transformed into a badge of honor for Giants fans. We talked about the team's success the same way Mad Men viewers do after the show sweeps the Emmys.
It was a bit hypocritical though, with the fans equally contemptuous of the league for creating this situation in the first place. MLB, Fox and ESPN got the country addicted on Yankees, Red Sox and Phillies. When those juggernauts aren't in the big games, the country collectively turns off.
It's here that I see real opportunity with this reality series. Giants fans should embrace the opportunity to bring their team to the masses, rather than acting like your favorite neo-folk group just announced their next album will be produced by Dr. Luke.
If the team wants to compete yearly, a certain amount of selling out will be involved.
Yet there is one concern I cannot allay: that this show, which I will be completely obligated to watch (and probably recap) will be boring. Like crushingly boring.
It's being put together by Tollin/Robbins Productions, the people behind "Bonds on Bonds." Those are the guys who created a reality series where one of the most embattled sports figure in our lifetime, in the process of breaking the home run record, was largely shown feeding his fish.
But I hold out hope.
Maybe we'll get lucky and a love triangle will develop with Lou Seal.
To reach Tom Dotan, click here.