NFL
Al Davis: A Fighter Till The Bitter End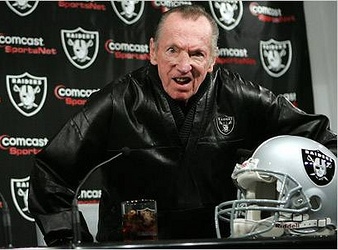 Al Davis has always been very much in love with being unconditionally, unmistakenly miserable.
Like a general home from war, he doesn't know what to do with himself when the guns are stored away. He's all for a battle, a fight, a controversy, someone to fire, someone to sue.
Damn the "happily ever after" part. He wants revenge!
He's done it again. He's ruined everything. Al's taken success to the woodshed, he's spit in the face of joy, he's told "Tiny Tim" to take a hike.
God save us, every one of us. The Raiders are back to chaos.
Once again, as of Sunday, Davis put himself in legal trouble -- right where he wants to be. In a matter of a month, he's done more damage to his own team than we could have ever imagined. He's systematically turned back progress.
On Sunday, we learned ex-head coach Tom Cable is fighting back.
The details are as follows: While the Raiders were inspiring their nation down the stretch, Davis was gleefully fining his coach -- not once, not twice, not three times. He did it six times, for a total of $120,000. For what reason? We don't know — but Al never needs a reason, other than that he woke up and the roses still stink.
Now, Cable's ready to sue him, and a long battle is approaching.
So much for marked improvement. Buried beneath Davis' attention-grabbing schemes is an 8-8 season, the best for the Raiders in eight years.
Davis and Cable will take their differences to the NFL's version of court. An arbitrator will receive arguments and witnesses from Cable. And then he or she will receive them from Davis. It'll make headlines. The non-nation fans will get a great laugh.
And all the while, Davis will be reveling, forgetting that he needs to find a new coach. It'll be too much fun.
Once more, "the Kid from Brooklyn" can brawl and care less what you think about him. Davis has spent more time in court than he has in the owners box.
In the history of Al Davis, controversy has only escalated at his times of greatest success. It's hard to believe he's truly ever enjoyed his great triumphs. Certainly, his will to win cannot be questioned.
He made his first impression as commissioner of the American Football League. Like a real Raider, he plundered. He signed as many top NFL players to AFL contracts as he could.
And in what should have been his crowning achievement, forcing the NFL and AFL to merge, instead he brooded. He scoffed at the idea.
But it was inevitable and, when it happened, he denounced the owners who went behind his back, a grudge he never gave up. He resigned.
He set his sights on the Raiders.
It's his lifeblood, he thrives off it; like a junkyard dog, he'd rather roll around in the dirt than lick out of a golden bowl.
In the game of life, Davis is what prisoners call a "lifer." He doesn't want to be anywhere but his miserable little prison.
His biggest career battles were fought while the Raiders reached the highest heights of professional football.
After Ken Stabler won the Super Bowl in 1976, things soured with Davis — like aging milk. They always do with the man they call "Darth Raider."
The beloved Stabler was traded at the height of Raider greatness.
Lucky for Davis, his backup, Jim Plunkett, had one of the most unexpected turnarounds in the history of the league, emerging from mediocrity to lead the Raiders to two more Super Bowls in the early 80s.
Davis was having fun too. It was the hours of his most cherished battles, in court as he threatened to move his Raiders out of Oakland.
It was the stuff of legend, the greatest battle waged in modern American sports history: Al Davis vs. NFL commissioner Pete Rozelle.
Davis didn't care that the city of Oakland was swept up in his team, marching toward Super Bowls. Forget the parade, forget the champagne. Davis wanted blood.
Every battle wears on his face like an old, traveling country singer — lines of stress and angst and anger and wars waged, worn like trophies.
He's the guy at the roulette table that's won big, but keeps going until he feels the sting of loss.
He's doesn't want to "just win, baby!" he really wants to "just piss you off."
Even as he hit his stride again in 2001, the success meant no change. He fired Jon Gruden in a baffling move that can never be explained. Gruden beat the Raiders in the Super Bowl the next year.
[Editor's note: Gruden wasn't fired by the Raiders. He was traded to the Tampa Bay Buccaneers for two first-round picks, two second-round picks and $8 million.]
From there, Davis dismantled everything; and we watched the Raiders become the epitome of dysfunction.
But then there was this year. Once again, something to smile about.
Keep smiling and God knows what we're all in for next year.
To reach Dan Watson, click here.