International
Afghanistan, China, Yemen Get U.S. Foreign Policy Focus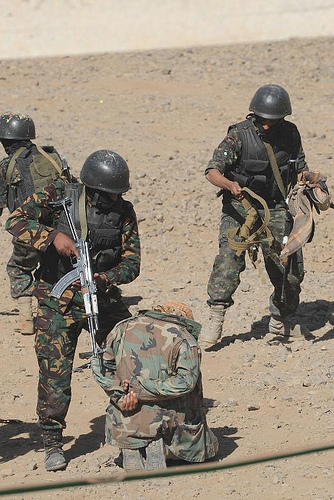 The United States diplomatic corps deployed en masse Tuesday, with Vice President Biden visiting Afghanistan to discuss reconstruction after the scheduled military withdrawal in 2014, Defense Secretary Robert Gates confronting China over a stealth military plane test flight, during his visit with President Hu Jintao, and Secretary of State Hillary Clinton paid a rare high-level visit to Yemen.
While visits to and engagement with Afghanistan and China are routine, Secretary Clinton's visit to the Yemeni capital of Sana'a was a rare, sensitive occasion.
In the first visit by a U.S. Secretary of State to Yemen in 20 years, Clinton tried to extend relations with Yemen beyond just a U.S. push to get the country to crack down on terrorist networks. The U.S. gave $130 million in non-military aid to Yemen last year, but that apparently did very little to lift people from poverty or provide them with things like water and electricity.
The diplomatic overture by Clinton represents an extension of counterinsurgency strategies used in Iraq and Afghanistan, where economic development initiatives are used to discourage people in dire economic situations from resorting to insurgent violence.
Yemen has been plagued by a strong terrorist organization on its territory, Al Qeada in the Arabian Peninsula. The group has orchestrated a variety of attacks against the United States, ranging from the bombing of the U.S.S. Cole in 2000 to the failed Christmas Day bombing of Flight 253 in 2009. The group is lead by Anwar al-Awlaki, who is a dual citizen of the United States and Yemen.
Meanwhile, President Barack Obama with French President Nicolas Sarkozy on Monday in the White House, who is taking the charge of several global economic organizations this year. Next week, Obama hosts Jintao at the White House.
With China, diplomatic efforts are focused on figuring out how the U.S. Navy can match the innovation and growth of Chinese military.
In Afghanistan, Biden's visit was meant to give him a chance to measure the progress of Afghan security force development first-hand. Troop pullouts begin in July and last until 2014.
Reach Executive Producer Mary Slosson here. Follow her on Twitter here.