National
Illinois Legislature Approves Civil Unions For Gay Couples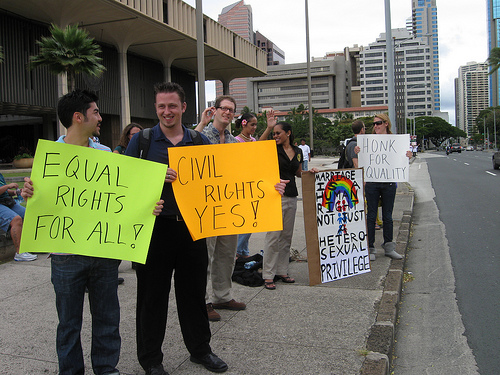 Gay-rights activists celebrated as the Illinois Senate voted to
legalize civil unions
for gay couples Wednesday. Illinois Gov. Pat Quinn has pledged to sign the "Illinois Religious Freedom Protection and Civil Union Act" after the state Senate approved it 32-24.
Legalizing civil unions would give gay and lesbian couples recognition and provide them many of the benefits available to married couples, such as the right to visit a sick partner in the hospital and the power to make decisions about their partner's medical treatment.
The Illinois Religious Freedom Protection and Civil Union Act would go even further, protecting the rights of churches and other religious institutions to define marriage as they choose.
Supporters of civil unions hope that this will help them eventually gain the rights to a full marriage because the federal government does not recognize civil unions.
Although many couples have chosen to go for civil union, some gay and lesbian couples have decided to wait until same-sex marriage is recognized so that they can get all the benefits and rights available to married couples.
However, not everyone is happy with the bill's passage.
State Sen. James Meeks, the pastor of a church, voted "No" on the civil unions bill.
"I voted for the sanctity of marriage," Meeks told reporters after the vote.
Critics believe that the passing of this bill moves Illinois closer to legalizing same-sex marriages, which they fear people are not ready for.
Reach reporter Monica Nguyen here.