Technology
Google, Verizon Partner For Chrome OS Notebooks
Google unveiled Tuesday laptops than run its Internet-focused Chrome operating system.
Every Chrome OS notebook will have Wi-Fi and mobile 3G broadband support. The devices will operate on Verizon's cellular network. Users will be able to use 100 megabytes of data for free every month for two years. Plans for using more data will start at $10 for a day pass.
Chrome OS is all about getting users onto the Internet as fast as possible and storing data on Internet servers rather than a hard disk drive on the device itself.
The device still has many kinks, so Google is not ready to release them for mass retail yet. Instead, the technology giant announced a pilot program, giving early adopters a chance to help Google improve the devices. Businesses such as American Airlines will get a first crack.
Attendees of Google's announcement, certain Chrome browser users and Google Chrome Facebook page fans who filled out a quiz recently will receive Chrome OS laptops in the mail. The general public can also apply online or submit a video to show why they deserve to test out the device.
The laptops, dubbed Cr-48, don't have caps lock keys or function keys on the keyboards. The low-key notebook does have a high-resolution display, a touchpad and web cam.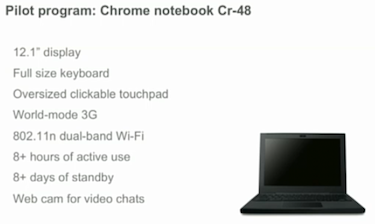 Google said on its official blog that Chrome notebooks from Acer and Samsung will go on sale in the first half of 2011. More manufacturers will follow, the company said, and they could offer some Chrome OS desktops too.
Out of the box, a user can get onto the Internet in about a minute. Google touts that users can begin surfing the Internet from sleep or off mode in less than a second.
Because all of the preferences and data are stored on the cloud, Chrome OS allows for multiple people to share the same laptop without worries of someone stepping over your settings. Chrome OS has a guest mode too that automatically loads Chrome's private browsing mode.
The operating system automatically updates every few weeks and will likely face fewer security threats because the size of the actual operating system is so small.
Google announced Tuesday that it also partnered with Citrix to put enterprise software such as Excel and SAP onto the private servers of companies. This allows employees to use applications from any instance of Chrome and employers to keep down the costs of managing applications and devices.
Google has been internally testing Chromes OS laptops since the summer. The devices will eventually have USB ports and will allow for cloud printing, meaning you could have a document print on your home computer while sitting in a taxi miles away.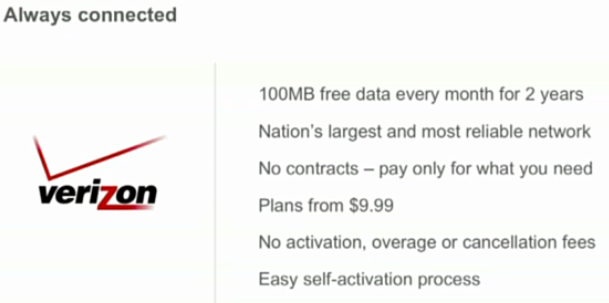 Google Chrome Web Store Brings Apps To The Computer Browser
The store, which launches later Tuesday, is already populated with hundreds of applications built using HTML5, including many for games, shopping and news websites such as the New York Times, Salon, Sports Illustrated and NPR. Apps from Amazon and EA Games were featured at Tuesday's announcement. The Chrome app store will bring an Amazon Kindle app to a computer for the first time in early 2011. The apps run within the Chrome browser.
The apps put things you usually expect on your phone, iPad or tablet onto a bigger screen. It's a browsing experience more rich than visiting dynamic web pages, but it still a strange concept. Being able to read news articles when you're not connected to the Internet is a useful feature, however. Many other apps have offline support as well, Google said.
The app store provides a new way for users to interact with websites and games and to discover interesting content.
Chrome Web Browser Gets Handful Of Speed Updates
The browser will figure out what websites you visit often. So say if you visit Twitter several times a day, you will only have to type "T" into the address bar and Twitter will automatically load in the display area. It's like Google Instant on a whole new level.
Chrome will also get the fastest PDF viewer you've ever seen in terms of loading a document.
Handling of graphics will continue to improve thanks to the WebGL 3D graphics API, which harnesses the power of the computer's graphical processing unit.
Javascript processing gets a boost as well, which Google says pushes browser handling of Javascript to 50 times as fast as it was two years ago.
Chrome Sync, available today, allows users to store their browser preferences on the cloud. That means users can get the same preferences from any instance of Google Chrome, regardless of what computer they are using.
Google Chrome has added 50 million daily users during the past six months, reaching a current peak of 120 million people who use it on a day-to-day basis.
Reach executive producer Paresh Dave here. Follow him on Twitter: @peard33.