Technology
Who's Most Interested In WikiLeaks? Pakistan, Says Google Trends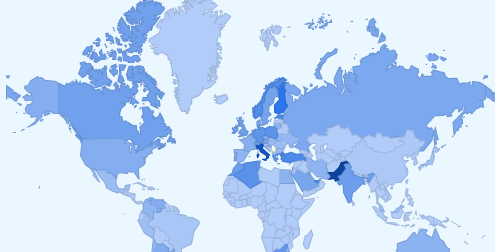 Internet users in Pakistan led the way in Google searches for the term "WikiLeaks" in the build-up to and the first two days of releases of secret diplomatic cables.
Google Insights for Search through Monday show that people in Pakistan and Italy seem to have had the most interest in the first batch of documents.
This isn't the first time Pakistan has dominated in making a certain search query. The Muslim nation has been repeatedly noted for topping all other countries in the Google Insights rankings for sex-related and pornographic terms. Google is the most-used search engine in every major country, except for China and Russia.
Several other European countries did a lot of searching for WikiLeaks, including Turkey, Poland, Israel and Spain. The U.S. doesn't crack the top 10; Americans do lead the way in searching for "cables." The overall interest in searching for cables is way lower than for "WikiLeaks."
There's good news for the five newspapers which received special access to the documents. Google searches worldwide for the websites of the N.Y. Times, the Guardian, Le Monde, Der Spiegel and El Pais have skyrocketed since this weekend's release of the first documents. Comparing them, the Guardian and El Pais are attracting the most searches.
Yahoo! Gives Insights Into American Searchers
Yahoo! recently released their own tool for gaining insight into who's searching for what. The search engine's tool is limited to the U.S., however.
Most of the searches for WikiLeaks and related terms came from men between the age of 35 and 44, according to Yahoo! Clues data spanning Nov. 24 through Tuesday. More than two out of every three searches on Yahoo for "WikiLeaks" in the U.S. over that time were from men, suggesting women might not care too much about the embassy cables.
Illinois, California, New Jersey and Texas were the top-searching states.
Reach executive producer Paresh Dave here. Follow him on Twitter: @peard33.