California
Whitman Supporters Celebrate Election Night, Until She Pulls The Plug
Republican gubernatorial candidate Meg Whitman's Election Night party acted as a chance for staffers, volunteers and supporters to celebrate two years of hard work.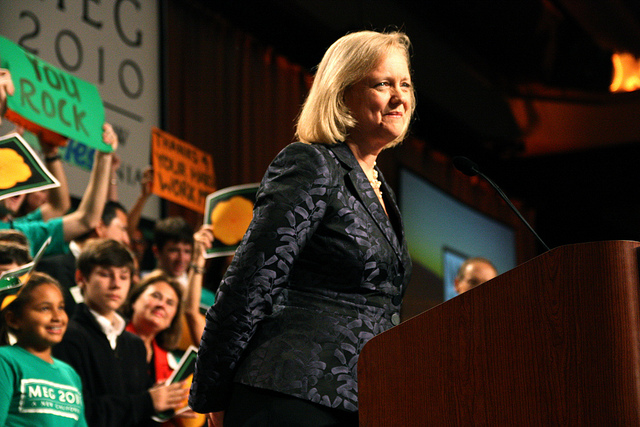 Hard work that fell just short.
With every major media outlet declaring Jerry Brown the winner within 30 minutes of the polls closing, the Whitman party ignored those results and waited for the numbers.
Cheers erupted when results of the GOP House takeover were announced, and boos filled the ballroom of the Hilton Universal City when Democratic victories were shown.
At one moment when it seemed the morale could be dropping, former Gov. Pete Wilson reenergized the crowd by telling of woes with ballot counting. Get comfortable, he said, because they were settling in for a long night.
But the night wore on, the podium was empty and the news kept getting grimmer for Whitman. She had announced that she would wait for 75 percent returns before making any decisions. But with only 23 percent counted, Brown's lead opened up.
There was a flash of hope when Senate candidate Carly Fiorina said she would not concede the Senate race, despite Boxer being declared the winner. The crowd of Whitman supporters cheered, knowing California Republicans were not giving up.
Within minutes of Fiorina's speech, Whitman took the stage in front of her supporters. They were expecting her to rally the troops, declare them very much alive and fight for the votes to finish counting.
Instead, she said, "We've come up a little short."
The enthusiasm was almost instantly drained from the crowd as they realized this was a concession speech. Groans of disapproval echoed when she referred to Governor-elect Brown.
But Whitman wouldn't have the groaning. She made it clear the election was over and now was the time for California to unite under its new governor.
Her sincerity was obvious as she promised the crowd that, "I gave it my all."
She just fell a little short.
Reach staff reporter Andria Kowalchik here.
Sign up for Neon Tommy's weekly e-mail newsletter.