USC Sports
Trojans Upset No. 18 Arizona In The Desert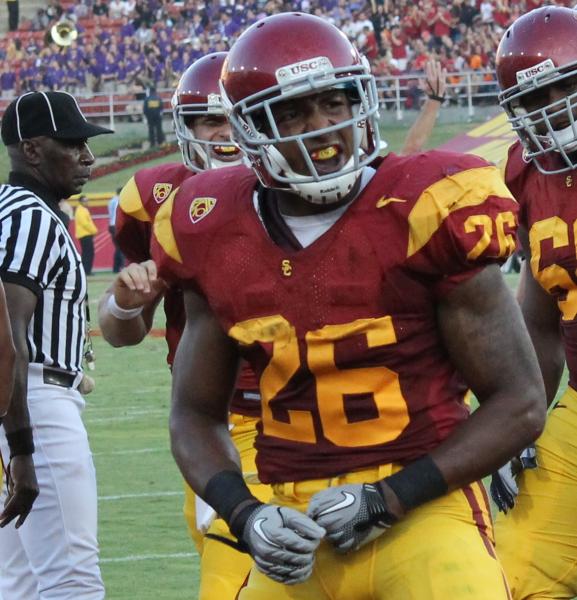 TUCSON, Ariz. -- Marc Tyler shredded the Pac-10's top rushing defense, racking up 160 yards and a touchdown on 31 carries to lead USC (7-3, 4-3) to a 24-21 upset of No. 18 Arizona (7-3, 4-3) in Tucson.
The Trojans scored on their first three offensive possessions to open up a 21-7 second quarter lead, but Arizona's Nick Foles hit Travis Cobb on a fade route for a 31-yard touchdown to cut the lead to 21-14 just before halftime.
However, it was a 30-yard field goal by Joe Houston in the third quarter that proved to be the difference. The kick put USC up 24-14 and, despite a late Foles touchdown pass to David Douglas, the Trojans were able to pull out the road victory.
***
Key moment: Two weeks ago, Malcolm Smith missed his second consecutive game after spraining his knee. Last week, he returned to action and had a impressive return himself -- a 73-yard interception return for a touchdown.
This week, he forced a crucial fumble on Arizona's opening drive of the second half. The Wildcats drove the ball inside the red zone when Smith made a solid open-field tackle on receiver David Douglas to stop him short of the first down marker on third down.
"I was just trying to get him down," Smith said. "He had the ball loose and I guess I knocked it out. Fortunate for us, we were able to dogpile and get the ball."
Shareece Wright recovered the fumble to end Arizona's scoring threat.
Player of the game: Marc Tyler. For the second consecutive week, Tyler rushed for 100+ yards. The offensive line pounded the 10th-ranked Arizona rush defense and Tyler took advantage, carrying the ball 31 times for 160 yards.
Tyler admitted he didn't expect to run the ball 31 times -- the most attempts since Sultan McCullough ran the ball 39 times against California in 2002.
"I thought the chances of that happening for me were slim to none," Tyler said. "It didn't feel like that much [during the game], but it definitely does now...a lot."
But Tyler's success came in great part because of the offensive line. They consistently had a strong surge, which Tyler said may have been because of the way the Wildcats play the run.
"They're not a team that consistently rushes up the field. They kind of just sit there and wait for you to go and then fall off [the blockers]. It's hard to read that."
Unsung hero: Marshall Jones. The junior safety saw significant action last week. However, with Jawanza Starling not playing due to an injury, Jones was thrust into the starting lineup.
He responded to the challenge with a stellar performance that could keep him in the lineup for the remainder of the season. Jones didn't give up any of the huge plays that have plagued the secondary this season. Though Juron Criner and Terrance Miller combined for 13 catches and more than 200 yards, Arizona was never able to get behind the secondary for a game-changing play.
Jones also made a touchdown-saving shoestring tackle on Criner in the first half.
"Criner is probably the best receiver we have faced all year," Jones said. "That was a crazy tackle. I hardly got him. If I would have missed he probably would've scored, so it was great to make a game-defining play."
Play of the game: Leading 14-7, USC drove the ball into the Arizona red zone. But a third down completion to Rhett Ellison left USC needing three yards for a first down from the 11-yard line.
The Trojans trotted out their unreliable field goal unit. However, an injury timeout created a break in the action, which is when USC dialed up a fourth down pass play out of the "swinging gate" formation they use before kicking extra points. USC shifted twice with backup quarterback and kick holder Mitch Mustain directing the movement. The line then quickly moved into a tight shotgun formation set and Mustain took the snap.
Mustain was pressured but hit tight end Jordan Cameron coming across the formation. Cameron rumbled 7 yards for a first down. Two plays later, Tyler rushed right for USC's third touchdown of the first half.
Game changer: Rhett Ellison. Ellison changed the game, but not always in a positive way. He was the second leading receiver for USC with three catches for 32 yards. The redshirt junior also had USC's only touchdown catch. In the first quarter, Matt Barkley threw behind Ellison in the right corner of the end zone, but Ellison adjusted in mid air to make a nice 7-yard touchdown catch. However, Ellison also changed the game negatively for the Trojan offense. He was called for three penalties, two of which negated first downs.
Key stat: 37:27 > 22:33. Arizona State has now lost the time of possession battle three times this season...and they've lost all three games. USC dominated time of possession, particularly in the fourth quarter when they held the ball for 12:24 of the 15-minute period. The Trojan offensive line's ability to open holes kept the clock running and USC was efficient on third and fourth downs, keeping drives alive 9 of 15 times.

Best coaching decision: To negate the dynamic pass rush of Arizona senior defensive ends Ricky Elmore and Brooks Reed, USC used a quick passing attack that focused on getting the ball to its playmakers in space. Elmore (8.0 sacks) and Reed (5.5 sacks) entered the game first and third in the conference in sacks, but recorded no sacks and only six tackles combined against USC.
"We just ran the ball and threw the ball really quick. I think it's a great pass rush. At the end of the first half when we had to throw the ball, you saw how fast their defensive ends were," head coach Lane Kiffin said. "So we didn't allow them to do it. We used a lot of multiple tight end sets. I think that's the only way you can hold them to no sacks. Otherwise, they're very dangerous."
Matt Barkley also showed his continued growth and maturity taking what the defense was giving him rather than forcing the ball downfield.
"They were playing off and not allowing us to go deep," Barkley said, "so we were just taking those underneath routes. That's one thing I've learned this year. You have to be comfortable with that and move the chains."
Barkley had just 170 yards passing (and no receiver had more than 41 yards), but USC only had two negative rushes and no sacks. Arizona entered the game 21st in the nation, averaging seven tackles-for-loss per game.
Worst coaching decision: Sticking with Torin Harris. Cornerback Torin Harris continually got beat by one of the Pac-10's best wide receivers, Juron Criner. Instead of having senior Shareece Wright shadow Criner and attempt to lock down the 6-foot-4, 210 pound NFL prospect, USC stuck with Harris and tried to help him out by rolling the coverage to his side.
The attempt failed. Four of Criner's six receptions were third down conversions with Harris covering him. Late in the game, Brian Baucham took over the outside duties opposite of Wright, but it was long overdue.
To reach Shotgun Spratling, click here, or follow him on Twitter @BlueWorkhorse.
Sign up for Neon Tommy's weekly e-mail newsletter.