National
TSA Tone Deaf As Americans Bristle At Privacy Invasion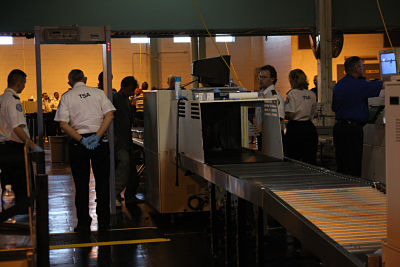 A broad-based, loosely organized contingent of Americans have had enough of full-body scans and enhanced pat-downs.
Although the majority of Americans still support the Transportation Security Administration, TSA has stepped into a firestorm of criticism for its enhanced security procedures at the nation's airports. The agency's response so far is epitomized by TSA head John Pistole's comments to a Senate committee last week: "the threats are real, the stakes are high and we must prevail."
A sampling of public criticism:
Brian Sodergren, founder of National Naked Scanner Opt-Out Day (planned for Wednesday) wrote: "We have a right to privacy and buying a plane ticket should not mean that we're guilty until proven innocent. This day is needed because many people do not understand what they consent to when choosing to fly."
Time says: "The TSA could have, should have seen this coming. It should have anticipated the public's complacency about the bombing risk, and the predictable emotional resistance to the imposed risk of radiation and intimate physical pat downs."
A Coro Fellow (part of a public affairs leadership program) told the Washington Post: "These TSA regulations tell people that they don't need to stand up for themselves. Instead we would do well to remember that we live in a democracy where we the people are sovereign, and taking responsibility for our lives is what self-governance demands. The public is right to shout "Don't touch my junk!" to these inane new regulations, and the TSA would do well to listen."
An ABC News employee reported on an intense search at Newark International Airport: "The woman who checked me reached her hands inside my underwear and felt her way around," she said. "It was basically worse than going to the gynecologist. It was embarrassing. It was demeaning. It was inappropriate."
And Tom Sawyer said he would not fly again anytime soon after being forced to fly covered in his own urine. An aggressive pat-down broke the seal on his urostomy bag: "No, no, no. Now a thousand times, no. Not until I can get my head around all this. I intend to watch carefully to see if any real change takes place."
And after a young boy was patted down while shirtless at Salt Lake City International Airport, Congressman Jason Chaffetz said: "Between the whole body imaging and the pat downs and kids having to take their shirts off, it just seems like we're going a little too far."
Flight attendant Cathy Bossi - a breast cancer survivor - had to remove her prosthetic breast while receiving an enhanced pat-down: "It was just so horrific of an experience, I couldn't believe someone had done that to me. I'm a flight attendant. I was just trying to get to work."
While some media coverage has painted objections to new TSA protocol as limited to a very conservative, right-wing group represented by Matt Drudge at The Drudge Report, it's clear that is not the case. A variety of people are more than a little uncomfortable about having their human rights compromised in the name of national security.
Reach Kevin Grant here.
To follow him on Twitter.
Sign up for Neon Tommy's weekly e-mail newsletter.