Music
A Toast For Kanye West's "Dark Twisted Fantasy"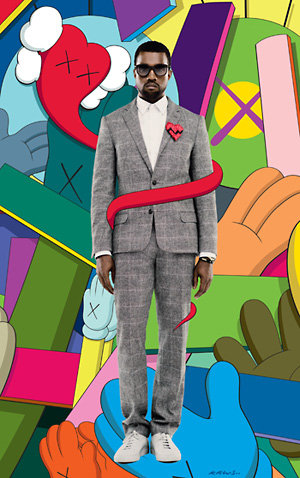 "Can we get much higher?" This is the plea that Kanye West uses to begin his album "My Beautiful Dark Twisted Fantasy," and the answer is emphatically: Yes.
Any casual pop-culture observer knows the saga of Kanye: the cocky self-declared king of the hip-hop world, reduced to becoming a meme after his alcohol-fueled interruption of Taylor Swift at the 2009 MTV VMAs.
But starting with the release of "Power," something changed. People started paying attention to Mr. West again, and not for something outrageous and/or arrogant. After keeping a low profile for a while, Kanye was back — and with a sound that one couldn't help but pay attention to.
Then came his Twitter. And then his VMAs performance. And along the way, his G.O.O.D. Friday releases. And in the end?
A beautiful dark twisted fantasy. From the opening calls of "Dark Fantasy" to the final lines of "Who Will Survive in America," Mr. West rhapsodizes a journey tinged with the faintest hints of gothic horror: from monsters to abuse to douchebags, Mr. West's album has a decidedly gloomy undertone.
Yet there is a joy and energy in his songs that hooks even the listeners who think, "I don't really listen to hip-hop and rap." West's solo verses on tracks like "Power," "Hell of a Life," and of course, "Monster" have a universal appeal to a sometimes-skeptical audience: yes, Yeezy is back, and with a ferocity that few contemporary rappers have. "My presence is a present; kiss my ass"? Only someone like Kanye can believably pull off the swagger of that line.
That said, one of Mr. West's smartest moves on the album was the inclusion of notable guest spots. Particularly stand-out: the inclusion of Rihanna on "All of the Lights," and Nicki Minaj on "Monster." The former adds a broader pop appeal to the album; the latter steals the track from under Mr. West's nose.
One of peoples' main complaints about Kanye West is that he is an idiot, an arrogant loudmouth who is all bravado and no substance. But with the release of "My Beautiful Dark Twisted Fantasy," one can only imagine that he puts the haters' thoughts to rest.
"You've been putting up with my shit just way too long"; while true, if the payoff is an album like this, the world can deal with Mr. West's shenanigans for as long as they go on.
Reach staff reporter Lilian Min here.