National
Teenager Arrested In Oregon Black Friday Bomb Plot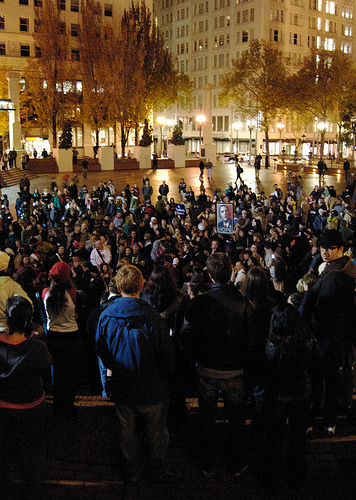 A 19-year-old Somali-born man
was arrested early Friday
evening on suspicion of plotting to kill a "huge mass" of people at a Christmas Tree lighting ceremony in Portland by detonating a bomb planted by FBI agents.
The FBI received a tip that Mohamed Osman Mohamud was heading down a dangerous path. It's unclear when the tip was received. They began intercepting his e-mail. When Mohamud's e-mails to a man in Pakistan who may have been a terrorist kept bouncing back, the FBI decided to pose as that man via e-mail. The FBI eventually built a fake bomb for Mohamud after he supplied them with parts for a real bomb.
Acting on Mohamud's plans and orders to create a "spectacular show" they planted the fake bomb in a car near Friday's tree light ceremony at Pioneer Courthouse Square. He didn't know it was a fake. As soon as he tried dialing on a cell phone to detonate the bomb, the FBI arrested him.
"This defendant's chilling determination is a stark reminder that there are people — even here in Oregon — who are determined to kill Americans," said Dwight C. Holton, the United States attorney for Oregon.
An FBI affidavit reveals Mohamud had plotted a terrorist attack since he was 15 years old, was bent on killing everyone that attended the event, found the 9/11 terrorist attacks to be "awesome" and chose Oregon because no one would ever think something bad would happen there.
He will appear in federal court on Monday and faces a maximum sentence of life in prison.
Please Note: A previous version of this story stated that Mohamud was an Oregon State University student. However, he has not attended OSU since Oct. 6 of this year.
Reach executive producer Paresh Dave here. Follow him on Twitter: @peard33.