Theater and Dance
Raunchy Fun At Upright Citizens Brigade Theatre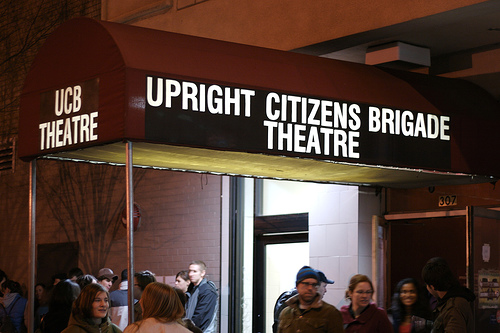 With the Upright Citizen Brigade Theatre's Friday night line-up, there are no guarantees. At times raunchy, sometimes witty, but mostly the absurd improv shows Soundtrack and Death by Roo Roo are anything but predictable.
Soundtrack starts out the night. Audience members give their iPods to a DJ who will choose random songs that the comedians center their scenes around. Last week's fast-paced performance kept the audience entertained with old-school rap, Latin music and some sort of sexually explicit Count Dracula song.
Each scene was spot-on in matching the tone of the music, and although none of the scenes were related, common jokes and characters emerged throughout that gave the show consistency.
As with many improv shows, some of the scenes were anticlimactic or just awkwardly petered off, but the group kept their momentum and there were some creative and hilarious moments. Whether depicting a ghost child playing the xylophone or the maker of iguana porn, the comedians' mannerisms were detailed and convincing.
After a short break, the improv troupe Death by Roo Roo begins a 45-minute show.
Last week, comedians asked the audience what they would do if they had just 30 days to live...then they mocked their responses. One man said he would marry his girlfriend, which caused a lot of excitement in the audience when the performers tried to pressure him into proposing on the spot.
The troupe performed one scene based around an audience-suggested movie quote. Someone called out a line from Young Frankenstein about "fucking death in the gall bladder."
While there were unexpectedly amusing moments, the group quickly lost control of the scene's direction. It transitioned from being about a doctor shooting a security guard to a zombie outbreak at the hospital. By the end, any kind of structure had dissolved into a chaotic performance that relied heavily on sexual language to get laughs.
And at the end of the show? The man proposed to his girlfriend. Only in Hollywood.
Death by Roo Roo has a great premise and features promising comedians, but performing two or three separate scenes would better engage the audience and ensure the story line doesn't get beaten to death.
But who know what's in store for tomorrow's show?
Overall, UCB's Fridays are ideal for an inexpensive and fun night out. The crowd, which both shows rely on for inspiration, is generally young and eclectic, and the area around the theatre houses many trendy restaurants, bars and bookstores - all components for a great start to the weekend.
Upright Citizens Brigade Theatre is located at 5919 Franklin Ave., Los Angeles, CA 90004. Performance is $10 and starts at 9:30 p.m.
Reach Elizabeth here.
Sign up for Neon Tommy's weekly e-mail newsletter.