Opinion
Political Hopefuls Use Entertainment TV To Attract Supporters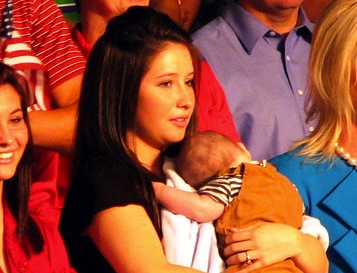 Recent outrage over Bristol Palin's unexpected success in Season 11 of
Dancing With the Stars
on
ABC
have fired up numerous debates.
Discussions have ensued
about everything from conspiracy theories suggesting the GOP rigged the show to the effectiveness of the program's voting and elimination system
Aside from dancing discussions, political debates have tangled with the show's stars. At this point, we could ask whether it is appropriate to fuse entertainment and politics. However, it is probably too late. After all, Bristol is not the first political figure to gain publicity through reality television, particularly with Dancing With the Stars.
She follows on the heels of former House Representative Tom DeLay and former Cincinnati mayor Jerry Springer, who starred in Seasons 9 and 3, respectively. Yet media attention with Bristol Palin is far more sensational. Bristol reached the finals of the program just as her mother's own show, Sarah Palin's Alaska on TLC, kicked off to a record 5 million total viewers in the most-watched series premiere in TLC's history, increasing the national spotlight on the Palin family. Critics view Palin's show as a new method of political advertisement – and Palin herself remains open to a future presidential bid.
If she runs in 2012, her TLC program could signify the start of one of the longest campaigns ever. As if to emphasize the idea television exposure could win votes, Bristol's ex-boyfriend Levi Johnston is fishing for his own reality show, Loving Levi: The Road to the Mayor's Office, in his 2011 campaign for mayor of Wasilla, Alaska.
At times it seems that Americans are headed towards the system of Ray Bradbury's Fahrenheit 451, where people vote for the best-looking or most outgoing candidate, rather than considering the actual politics and ideas of candidates.
But in spite of huge interest in both Bristol and Sarah Palin's television careers, Americans seem to realize that fame and money aren't everything.
A September poll found that Johnston is the most unpopular person of any state, keeping Fahrenheit 451's America at bay. And perhaps more significantly, California voters rejected Meg Whitman's explosively expensive campaign for the governorship, which ate up over $145 million of her personal money.
Even if politics appear to be popularity contests between the richest kids, we seem to realize when a pretty smile or a fat pocket is just a front. Keep up the good work, guys.
Reach Contributor Vivian Yan here.