National
Obama Advisers Throw Rahm Emanuel Under The Bus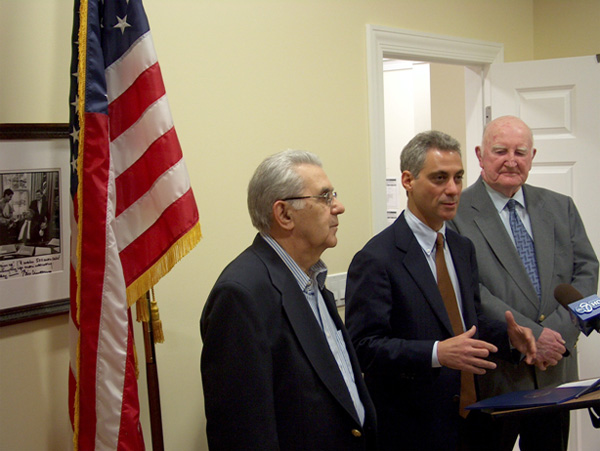 Rahm Emanuel, a.k.a "Rahm-bo", left Washington D.C. just weeks before the Nov. 2 massacre.
Now some of President Obama's advisers are more than happy to take advantage of his absence, scapegoating former chief of staff Emanuel as the reason for Obama's current problems.
Essentially, these anonymous advisers told The Daily Beast, Rahm left his man Obama twisting in the wind when he moved back to Chicago to run for mayor there: "'It was Rahm who always said, 'We've just got to put points on the board,' and that's why we have a transactional presidency,' said one former colleague. 'The only problem is that Obama is not a transactional politician. It was Rahm's strategy and then he leaves a month before the election for his own personal political career. It's extraordinary.'"
Emanuel was instrumental in building a Democratic majority in the Congress, they say, then mistakenly urged the President to leave a great deal of power in the hands of House Speaker Nancy Pelosi when he became Obama's chief of staff. Though unpopular among his colleagues, Emanuel is famously effective at getting things done.
New York Magazine wrote: "[Campaign manager David] Plouffe's job in 2008 was to devise a strategy to accomplish Obama's goal: to win. And Emanuel has done the same thing in the White House: help Obama achieve his chosen aims, which, at least on the domestic front, have been to pass landmark pieces of legislation."
Indeed, Congressional Quarterly published a study in January asserting that Obama has been more successful in passing legislation than any other president in history.
The study credited: " (1) [Obama's] propensity to negotiate and compromise on issues important to his legislative agenda, (2) the fact that his party owns a working majority in both houses of Congress, and (3) the sheer magnitude of an unusually pressing legislative calendar."
Behind all of that, there was Rahm. But Obama, the elected man, didn't deliver what the voters had demanded: a thriving economy.
As Obama said in a speech from the White House Wednesday: "Over the last two years, we've made progress. But clearly, too many Americans haven't felt that progress yet, and they told us that yesterday. And as president, I take responsibility for that."
In particular, Obama's unhappy camp is upset about Emanuel's timing: "Several lower-level White House aides say they're still surprised that Emanuel would so readily follow his personal ambition instead of staying beside the many Democrats he helped elect in the foxhole in the final weeks of the campaign."
What's more, they say, Rahm forced Obama to name Pete Rouse as chief of staff too early, and now can't pull a "dramatic shakeup" following the huge midterm losses.
No matter that Nancy Pelosi had her own ambitions for the Obama Presidency. No matter that in the end, it was Obama who was giving the marching orders to his staff. For these anonymous staffers, it's all Rahm's fault.