Technology
MySpace Adding Facebook Connect, Affirming Facebook's Dominance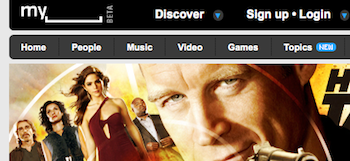 Three weeks after announcing a redefinition of its website from a social media network to a social entertainment hub, MySpace is expected to make a joint announcement with Facebook on Thursday afternoon that people will be able to log into its website with their Facebook accounts.
The addition of Facebook's Connect platform not only boosts Myspace's fresh profile, but also acknowledges that Facebook has become a titan every other Internet must rely on.
Thousands of websites already use Facebook Connect to let users to either bypass creating accounts on their websites or to link up existing logins with their Facebook accounts. Because certain activities are pushed back to Facebook news feeds, enabling Facebook Connect tends to be a big traffic driver for websites of all sizes. Being able to log in with one's Facebook's credentials also entices people who wouldn't otherwise create an account on a website--to say comment on a blog post or try a new app--to do so.
MySpace, which launched just over seven years ago, had its heyday way back in 2006, when it surpassed Yahoo as the most visited website in the United States. MySpace also captured its 100 millionth user in 2006. But between then and mid-2008, Facebook's popularity grew because of its uncluttered look, emphasis on simple photo sharing and sequestered feel. MySpace, a year later, had to shed nearly a third of its workforce. Owned by News Corp., the company's losses in the most recent quarter reached $156 million.
So, two and half years later, they are charting a rebirth. Existing users are being delivered new looks to their profiles, and the website unveiled a new logo that replaces the word "space" with a symbolic space bracket.
MySpace tried to rebrand itself in increments during its period of decline, but nothing every got the website chugging forward in terms of user engagement. They decided to go all-out and become a destination focusing on entertainment, mainly music, and catering to teenagers, college students and the under 35 crowd. What once was once a direct challenger to Facebook suddenly became more of a rival to the likes of MTV.com and VH1.com.
MySpace has said the redesign is aimed at attracting more users and getting them to spend more time on the website. But how could it bring back the millions of users it lost to Facebook? Integrating with Facebook clearly became the only answer because there was no other way to entice people to leave the behemoth or double log-in. About 70,000 people already sync their MySpace status updates with Facebook through a special application.
The announcement also continues an interesting trend for Facebook, which maintains the same goals as MySpace. The social network's American user base has plateaued, requiring it to branch into new niches. While the partnership with MySpace won't help too much with that problem, it will help Facebook get users to engage with their website more by bringing it yet another line of content for people to interact with.
Finally, the deal underscores the rising notion that for any new website to be successful it needs to allow for integration with Facebook, Yahoo, Google and Twitter--the quartet that controls content delivery on the social Internet. Even Google's new Boutiques.com service, which does have some Twitter integration on it, will need to add some more Facebook widgets on the website for it to grow virally and enjoy strong success.
Reach executive producer Paresh Dave here. Follow him on Twitter: @peard33.